Dr. Vishakha Desai
Chair of the Board of Trustees, AFS Intercultural Programs

India, United States of America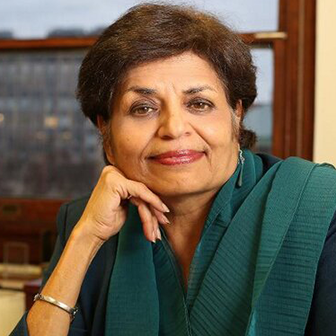 Dr. Vishakha N. Desai currently serves as Chair of the Board of Trustees of AFS Intercultural Programs, an international education organization with nearly 50,000 volunteers and staff in 60 countries. AFS develops active global citizens, empowers schools and institutions, and expands access to intercultural education in order to build a more just and peaceful world.
Dr. Desai is Senior Advisor for Global Affairs to the President of Columbia University and Senior Research Scholar at its School of International and Public Affairs, where she focuses on innovative approaches to understanding the relationship between culture and foreign policy in Asia. 
From 1990 through 2012, she served in various capacities at the Asia Society, ranging from being Director if its museum, to being the President and CEO of the organization from 2004. Under her leadership the organization expanded the scope and scale of its activities, incorporating a broad range of internationally recognized education programs.
In addition to several publications, Dr. Desai is also a frequent contributor to newspapers and magazines in both the US and Asia. A recipient of five honorary degrees, Dr. Desai holds a B.A. in Political Science from Bombay University and an M.A. and Ph.D. in Asian Art History from the University of Michigan.