Wairimu Mwangi
Founder and CEO, Literature Africa Foundation

Kenya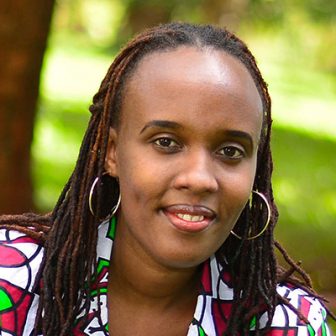 Wairimu Mwangi is a Creative Artist, a Writer and the Founder & CEO of Literature Africa Foundation (LAF), an NGO with a mission to advance access to education and economic empowerment opportunities to vulnerable young people living in Kenya through academic and literacy support, skills training and mentorship. She is passionate about raising a generation of self-reliant individuals by offering learners a platform to dialogue with their teachers and other education stakeholders; thus creating forums for them to reimagine creativity & innovation in the way education & learning is delivered and received in communities.
She has authored eight Educational Books, five of which have been approved for use in schools across East Africa by the relevant Curriculum Development Centers. Her book titled "Disability is not Inability" published by The Jomo Kenyatta Foundation was rated among top 5 books in Schools and Library Projects in Sub-Saharan Africa by Worldreader for 2 years; 2016 & 2017. In addition, Wairimu currently serves as Africa Director for KAHINI, a global platform whose writing programs provide the space and opportunity to create, revise, and develop new literary work so as to deepen the creative practice and finalize work for publication or public performance.
With her education background being in Community Development, Civic Leadership and  Business & Entrepreneurship, Wairimu is a 2020 Sarlzburg Global YCI Fellow, a 2019 Mandela Washington Fellow, a 2016 Young African Leaders Initiative (YALI) RLC East Africa Fellow and was among the 2018 Top 40 under 40 Women in Kenya Award recipients.