Sadiki is a recent college graduate, an intern at a tech startup, and one of over 21 million refugees currently displaced worldwide. Recently he gave a tour of the refugee camp that has been his home for the last twenty years and reflected on his educational journey. As the group passed a large, shady tree Sadiki was reminded of his first days as a student. Back then the camp had no formal primary school, and camp residents organized classes for children using a worn blackboard tied to one of the tree branches. Sadiki and his classmates could have never imagined that, so close to where they had once practiced drawing numbers in the dirt, they would one day be completing online assignments at a university campus.
Around the time Sadiki was finishing his secondary education in 2013, Kepler, an innovative university program, launched its flagship campus in Kigali, Rwanda. In partnership with Southern New Hampshire University, Kepler began offering a blended learning model that brings students American-accredited degrees through a combination of online learning, in-person instruction and robust career support.
Kepler was soon approached by UNHCR Rwanda to recruit students from the local refugee camps, and a new partnership was born. The high number of applications pointed to a clear need and desire for higher education opportunities among refugee students. However, Kepler also realized that the majority of refugee applicants would need specialized academic supports to be successful in the rigorous program. In response, Kepler, with the support of the IKEA Foundation and Southern New Hampshire University, launched a pilot campus in Kiziba refugee camp in the fall of 2015.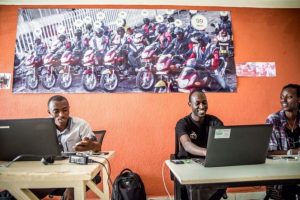 Ⓒ Alex Buisse
A remarkably bright student, Sadiki was able to earn a scholarship to join the first cohort at Kepler's new Kiziba campus. Sadiki finished his Associate of Arts degree in less than two years and secured a competitive internship at a technology startup where he's testing his skills and beginning to build a professional network. When he completes his bachelor's degree, Sadiki will have an internationally-recognized degree and real-world skills that place him in a position to find employment and support both himself and his family. Southern New Hampshire University's online, project-based degree model means that highly mobile refugee students, who often face precarious and uncertain futures, can complete their studies at a self-directed pace. And whether students like Sadiki choose to stay in Rwanda, return to their home in DRC, or resettle to another country, they can bring their US-accredited degree with them, assured that it will be recognized globally.
Kepler and Southern New Hampshire University have set out to prove that by providing access to tertiary education and employment pathways, success stories such as Sadiki's can be the norm for refugee learners, rather than the exception. Currently it is estimated that a mere one percent of refugees have access to higher education. Yet research has found significant economic returns for education among refugee populations: each additional year in school on average leads to a 3.3% higher average income, and tertiary-level education has the highest income returns.
When Kepler began exploring work in the humanitarian sector, we had already proven the efficacy of our academic and employment model in Rwanda. Our Kigali campus has produced incredibly positive results in terms of academic development, graduation rates, and employment. At the time of publication, 100% of Kepler graduates are employed within three months of completing their degree.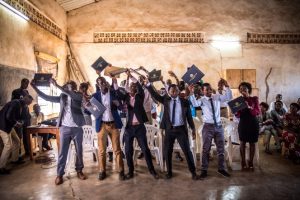 Ⓒ Alex Buisse
But Kepler was uncertain if the model could produce the same results for our students with refugee status. We knew that many employers were not aware that they were legally allowed to hire refugees, and we had heard countless anecdotal stories of discrimination against refugees in the labour market. Would employers even hire refugee graduates from Kepler? Could our students overcome these social barriers and transform negative stereotypes about the abilities and professionalism of refugees?
As refugee students on both the Kepler Kigali and Kiziba campuses begin pursuing internships and formal employment, we are discovering that the answers to these questions are more hopeful than first imagined. The progressive policies of the Rwandan government give refugees freedom of movement and right to work within Rwanda. Employers, already familiar with the Kepler brand and professional level of students, have enthusiastically accepted refugee interns. Our first group of interns – including Sadiki – are impressing employers and building a positive reputation for their peers.
We hope evidence from our model and the success of our first refugee graduates can contribute to advocacy efforts to expand refugee employment rights around the globe. With the generous support of the IKEA Foundation and the Humanitarian Education Accelerator, Kepler intends to create a replicable model that provides all refugee students access to a world-class higher education degree.
Refugee Children Empowered by Technology to Learn