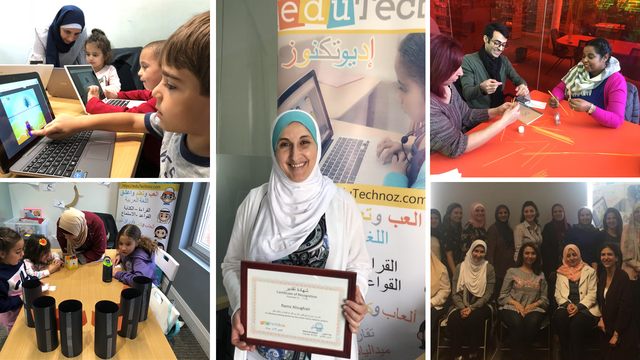 This initiative is part of the 2015-16 WISE Accelerator Cohort. 
What they do
The project mission is to inspire children to fall in love with Arabic by enabling them to master every aspect of it. The portal provides fun educational content, such as online games, eBooks and Interactive worksheets, with the aim of making teaching and learning Arabic finally fun and effective.
Reaching a regional audience of over 50,000 users, the platform has over 200 games designed based on local curricula (Qatar, Bahrain, Kuwait) and grounded in Arab culture. The games are tested to improve acquired skills by at least 19 percent from first session, while some young people achieve complete mastery after one game session.
Why it matters
Today young people often find Arabic difficult to learn. This is mainly because 1) schools are using old methodologies, 2) creative teachers don't have proper material that supports the curriculum and/or don't have enough time to cover the curriculum and make sure that students master a certain skill before moving on to the next, 3) parents are not fully engaged, either because they are busy or don't know Arabic. The founder faced the same problem four years ago when her son didn't like Arabic and preferred English because it was "easier" and more "fun." This triggered the alarm: What kind of a world are we leaving our children if they lose the most important pillar of their culture, heritage, and identity? This is why the project's mission is to inspire children to fall in love with Arabic by enabling them to master every aspect of it in a fun way.
Tractions so far
The project is an online portal that has fun educational content: games, books and worksheets. Parents and teachers can monitor a student's progress and receive real-time emails whenever he or she is facing a challenge. Games are indexed according to local curricula so that parents and teachers only need to look for the specific skill from the curriculum to locate all relevant content.
In short, the platform makes teaching and learning Arabic (along with Arabic homework) fun and effective. Kids can master the skills from home so that they do not fall behind in school. Parents, teachers and the school can finally have real-time visibility on student progress and better identify needed training for teachers, parents and/or students.
The project serves over 300,000 users all over the world. Schools using the platform are located in Qatar and Australia; individual users come from various countries, including Kuwait, Bahrain, Saudi Arabia, UAE, Canada, USA, Lebanon, Egypt, China, Germany, and others. The project has received five awards and generous press coverage.
April 26, 2015 (last update 03-15-2022)