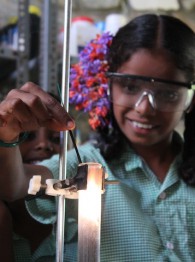 About the Project
This project is one of the 2015 WISE Awards finalists.
The Lab on a Bike aims at making hands-on education increasingly accessible in rural areas. Each LOB travels to remote schools with hands-on science models covering topics in Physics, Chemistry, Biology and Math for grades five through ten. The demonstration sessions emphasize interaction and questioning, so that children are able to relate better to concepts explained through interactive sessions rather than through traditional learning methods.
Context and Issue
In India, the schooling system has produced education apathy, high out-of-school rates and therefore a younger generation that lacks creative-thinking and problem-solving abilities. Infrastructure, teaching facilities and use of technology that fosters participation in experiential learning are almost non-existent. Consequently, there is a mismatch between academic and professional success.
Unlocking the creative potential of children and communities across the globe is one of the top challenges of the 21st century. However, nearly 200 million children in India are deprived of quality education as well as functioning facilities such as libraries and laboratories. Teacher training is uninspiring and divorced from the realities of the classroom and the outside world. Mind numbing lectures, low retention and boredom are ubiquitous in thousands of schools across the world.
Solution and Impact
To address this challenge, the Lab on a Bike project is based on a shared-resources model that significantly reduces the operational costs. The motorbike that travels to India's remote schools is equipped with science models offering an affordable option to reach out to many schools.
Focused on interactive and hands-on learning methods as well as encouraging the teachers to incorporate the approach on a daily basis, the project significantly increases the probability of children's academic and professional success. 
Over a three to five year period-long intervention, the project aims at fostering problem solving and leadership skills of children, where they identify problems and solutions within their own communities.
Operating with a fleet of more than 100 Mobile Labs, 45 rural science centers, 35 Labs on Bikes, and a 172-acre campus Creativity Lab near Bangalore, Agastya has reached creative hands-on science education to over five million economically disadvantaged children and 200,000 teachers and pioneered innovations including mobile science, ecology, and art labs, Young Instructor Leaders (children-teaching-children) and a Creativity Lab that incorporates science labs, an interactive museum, model making, teacher training, art, and ecology. 
Future Developments
The next stage will be to expand geographically across India in order to achieve greater scale and impact for the project and become a cost effective vehicle of change.
April 26, 2015 (last update 12-30-2020)