5 years ago, while facilitating a poetry workshop, I met Supriya Kumari, a 16-year-old student poet who is now an active member of Slam Out Loud's 'Bol Poetry Crew.' Not only was she frugal with her words and cautious of everyone around her, but she also showed me the poem she wrote then, a couple of months after the workshop.
Today, as the world has come to a standstill due to COVID-19 lockdowns, Supriya is interning with two organizations while also attending online classes. Throughout the day, she also helps her mother in the house, teaches her younger brother and is building her skill set through Coursera classes. As the world is struggling to embrace the new normal, Supriya is learning new things every day. She recounts that three years ago, she would not have been able to approach these unique circumstances with the same creativity and resilience. As for her poetry and finding her own voice – she has performed at India's biggest art festivals and represented Slam Out Loud's work in Finland too.
Art is one of the ways our lives become beautiful and full of lessons and skills, but often it does not reach the children who need it the most. Currently, in the wake of COVID-19, 300 million children in India are unable to access classrooms. Beyond the uncertainty of completing the academic year, school closures have also impacted children's learning levels, which in turn, translates into higher drop-out rates and psychological ill-effects for both children and their parents. At this time when educators and schools are trying to move to online modes of education, the massive digital divide in our country also becomes apparent.
Only 36% of Indians have access to the internet and the number is even lower in rural areas. Our organization, Slam Out Loud, is learning to navigate the new normal. What hasn't changed is our commitment to making children's voices heard. And hence, staying true to our mission of prioritizing students' wellbeing, our response to COVID-19 simultaneously focused on the mental and physical wellbeing of students along with the need to employ the lens of 'access' in developing solutions.
The resulting initiative – Arts for All – is an open-source project that leverages the power of art and low-tech platforms to create scalable art-based learning solutions. The program has the following facets:
1. Develop art-based learning resources:
By leveraging a network of professional artists and program fellows, we have developed a high-quality, context-specific, multilingual art-based curriculum. Our resources are aligned with 21st-century skills framework to help achieve the Sustainable Development Goal 4 of quality education. The skills that we aim to develop are creativity, collaboration, critical thinking, communication, self-esteem, and empathy.
2. Increase access through multiple low tech-platforms:
Online Video: SOL is delivering video-based content through YouTube as well as partner platforms. We reached out to approximately a thousand villages through Pratham's EdTech platform. Here are Socio-Emotional Learning focused Youtube courses on storytelling, theatre, visual Art, and poetry.
WhatsApp: Byte-sized activities are sent to children, parents, and teachers through daily WhatsApp alerts. These are hands-on activities that children can complete and share with accomplished artists to get Some of our most successful activities have been consolidated into this fun Art for All Booklet.
IVRS: To reach out to the most vulnerable children lacking access to even low-tech platforms like WhatsApp, we intend to launch localized audio versions of these activities and scale them through IVRS. We're already piloting an IVRS model in Delhi and look forward to scaling it.
Radio: We are exploring local radio as a means to reach out to rural audiences.
What happens when we use art in and outside of classrooms? How does something like poetry play out as a life-transforming experience for a student like Supriya? How does art education foster well-being?
A good example is our recent collaboration with the Government of Patiala. Over the course of an eight-week pilot project that disseminated SEL-focused art activities to over 140 thousand Lakh children daily, we observed a significant increase in students' Creative Confidence. Using high-frequency oral diagnostics to assess engagement and growth on Creative Confidence aspects in children along with qualitative surveys of stakeholders to monitor growth in our Art-proficiency rubric, by the end of our evaluation process, the profound impact of art on our students in Punjab was crystal clear.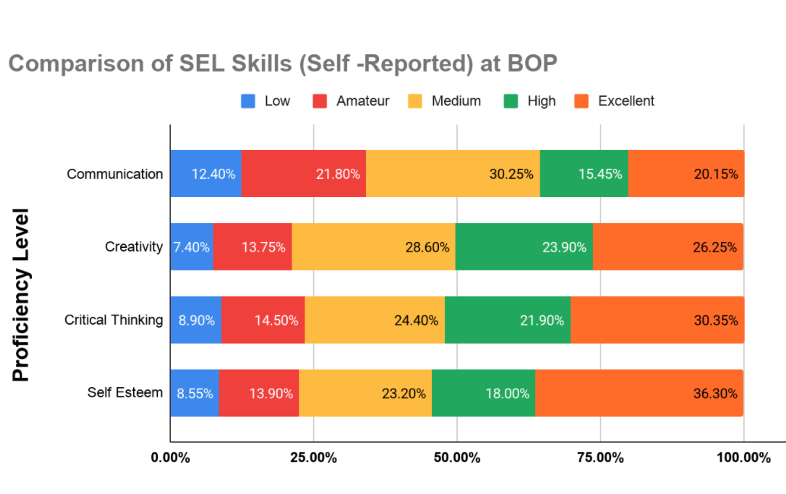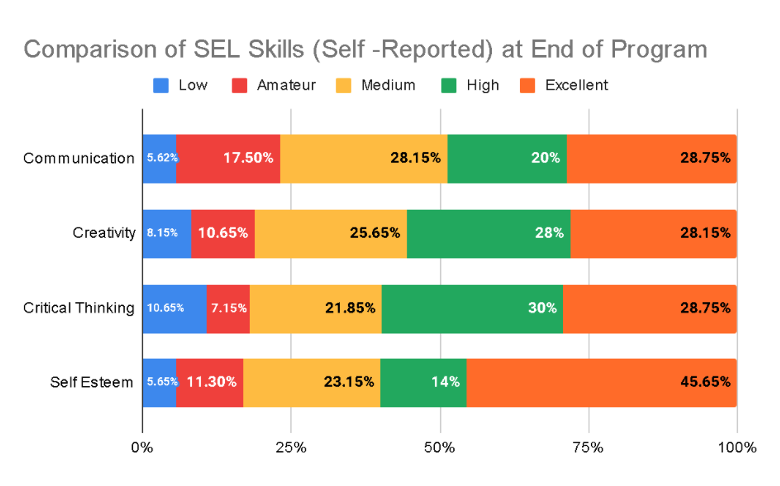 These graphs depict a significant increase in SEL skills in children. Across the 4 skills of Communication, Creativity, Critical Thinking and Self Esteem, we observed a notable increase in the number of students in the 'excellent' category. In other words, students in the low, amateur, and medium category across each skill, gained proficiency in their skill sets.
Apart from creating a positive and cohesive learning environment, engaging with art also translated into improved social skills and peer collaboration for our children in Punjab. Our work has taught us that the addition of art into education has a profound effect on children's learning because art never tells them they are wrong. Instead, it provides them with a space where their ideas, feelings and identity are accepted without iteration. If a space for fostering wellness had to be described, I'd describe it exactly that way.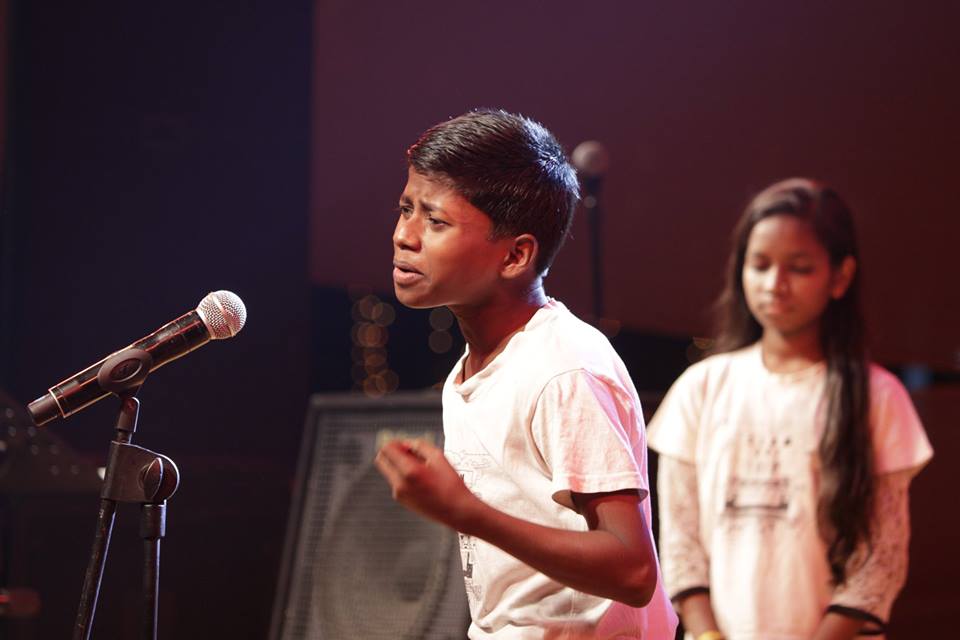 We espouse for art in everyday education because the monumental potential of art for student well-being and SEL gets reiterated to us every single day through the stories of our children, their young confident voices, and their emotional maturity towards problem-solving. These are just some instances of the daily dose of sunshine that this work has given me. With the help of our partners, 4.7 million children are able to access art and artistic opportunities today. And each of them, much like Supriya, are now on a quest to explore what expression means to them, and through it, find their voice.
Are Randomized Evaluations the Key to Innovation in Early Childhood Development? Lessons from Latin America