Adel Adem
Student of Qatar University

Eritrea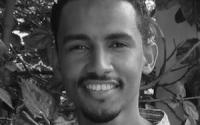 Adel is a student in Business and Economics at Qatar University. Born in Sudan, he is an Eritrean national who spent his early childhood in Eastern Sudan.
 
Adel is passionate about his education. He initially enrolled in the College of Chemical Engineering at the University of Aljazeera, Sudan.  However, shortly after his enrollment, he did not feel he had made the right decision and finally became a student at the College of Business and Economics at Qatar University. Alongside his studies, he has a special interest in world politics and debating. Being a regular attendee and an active participant in the Doha Debates, he was selected to be among the 10 students who represented the audience from Qatar at the February 2012 overseas Doha Debates at St. Stephen's College in Delhi. 
 
Adel has a personal blog where he shares his ideas and thoughts about several issues of personal interest and he would like to be a writer one day. He worked part-time as coordinator at the Student Exchange Section of Qatar University. His social life is important to him and he believes that working in the Student Exchange has enriched his personality by regularly meeting international students from different walks of life.
 
As a representative of Learners' Voice, Adel took part in the study trip to the School-Business Partnerships project in Casablanca, Morocco, from May 27 to June 3, 2012.