We know that innovation thrives on knowledge sharing and interaction.
That is why we have worked hard over the last six years to build a dynamic edtech program here at WISE that aims to support ongoing edtech innovation both at a local and global scale.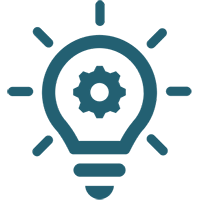 Support innovation
Alongside a global network of mentors, entrepreneurs and investors, we help edtech ventures scale and grow through our WISE Accelerator program

Conduct new research into edtech
Through our Edtech Testbed, we match WISE Accelerator ventures with schools in our network and test what works and determine why to improve both edtech and classroom practice

Build a global edtech community
We aim throughout the year to bring together thought leaders from the global edtech community during our online events, in-person engagements and ongoing article series
Strengthening Instructional Leadership in Rwanda:
A Collaborative Effort
Since 2016, VVOB – education for development, an active member of the WISE ALL-IN community, has been working with REB and the University of Rwanda – College of Education (UR-CE) to capacitate school leaders as instructional leaders. 
For over six years, the WISE Accelerator program has supported founders from around the world build and scale innovative edtech solutions.
With the help of our community of edtech founders, investors, and education stakeholders, we have delivered a bespoke program aimed at providing access to quality mentorship, coaching, and a global network focused on changing the way we learn, teach and work.
In order to further evolve the WISE Accelerator program and drive tangible impact at scale, we decided to launch the WISE Edtech Testbed.
The testbed will have three main objectives:
Provide schools with access to edtech innovation that meets their needs
Help teachers better understand how to use edtech effectively in the classroom
Demonstrate innovation in teaching and learning in order to inform national edtech policies
WISE Edtech Accelerator Webinar Series 2021
Are you an edtech entrepreneur who aspires to disrupt the way we teach and learn?
Are you involved in a well established edtech business or edtech venture, are you eager to invest in emerging Edtech solutions?
Join us in this online series as we talk to some of the best and brightest from the world of edtech, including notable investors, innovators and WISE Accelerator alumni.
Registration closes on Wednesday, March 31.
Due to objective and format of this interactive video session, space is limited.