Afnan Isleem
Student, Ohio State University

Palestine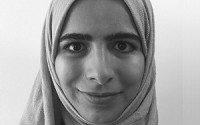 Afnan is a Palestinian from Gaza currently living in the United States. She has always been passionate about languages. In high school she studied Hebrew, and recently she has been studying Spanish. When she graduated from high school, she chose to study English literature. Afnan started her college journey at the Islamic University in Gaza; a year later she moved to the States. In December of 2014, Afnan received her Associate of Art degree from Columbus State Community College in Ohio. She is now a student at Ohio State University pursuing an English major with a literature concentration and a minor in education. She expects to graduate in the Fall of 2016.
Afnan is part of a program held in an elementary school in Columbus, Ohio. In this program, the team provides after-school help for immigrant and refugee students who face language, cultural, and financial barriers to success in their environment. The program's goal is to develop the students' academic, social, and personal skills. Afnan has always felt that she is not only giving to the program as a staff member, but also that she is learning and expanding her horizons through her interactions with the students.
Being part of this after-school team has also helped extend Afnan's interest in education. In the future, Afnan hopes to return to Gaza to utilize her education to better her community. She wants to teach English, and particularly hopes to be part of programs that help young students in Gaza succeed in their education. She looks forward to discovering how WISE will help her reach her goals.