Ewa Iwaszuk
Founder

Poland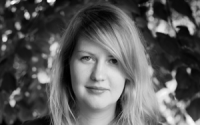 Ewa Iwaszuk is a social and environmental justice activist, working since 2011 in the field of non-formal and environmental education and sustainability. She has been involved in civil society organizations since 2001, when she joined Amnesty International at the age of 13. Since then she has actively participated in various projects and initiatives connected with social justice and human rights and aimed at fostering active citizenship and participation among young people.
Since 2011 she has mostly focused on various topics connected with climate change, sustainability, education for sustainable development and the relationship between human societies and nature. 
Ewa is the author of a manual for sustainable organizational and working practices – GREENTOOLBOX.ORG. She has organized and facilitated several educational activities and seminars, such as a study session on Environmental Human Rights prepared in cooperation with the Council of Europe or a series of workshops on Creating Sustainable Workplaces. 
Born in Poland and educated in the UK, Ewa now resides in Prague, Czech Republic, where she works for International Young Nature Friends, a major European youth NGO dedicated to environmental education and active citizenship.