Fernando Luis Ramirez Gonzalez
Master Student, University of Erfurt in Germany

Paraguay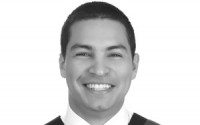 Fernando is from Paraguay. He holds a Bachelors Degree in Political Science and International Relations from National Taiwan University, the most prestigious university in Taiwan. He also conducted short term studies at Peking University and Shanghai Jiao Tong University in China, and at Hirakata High School in Japan. Fernando is very passionate about youth empowerment and intercultural understanding. He describes himself as a "transformational leader," a skill he obtained through his leading role as President of the Students' Council at Centro Regional de Education High School Pilar, Paraguay, Coordinator of "Union of Neembucu Prefecture High School Student Councils (FENAES)," President of National Taiwan University International Students' Association (NTUISA) –the largest international students-run organization in Taiwan, as well as his Model United Nations conferences experience in North America, Europe and Asia.
Professionally, he has conducted internships at the Embassy of the Republic of Paraguay in the Republic of China (Taiwan), and the European Union Centre in Taiwan (EUTW), and worked as "Project Coordinator" at a university in his hometown Pilar. There he founded a "Centre for Student Advising," which guided youths who want to study abroad, organized "Language & Culture Exchange Cafes" and "Opportunity Expos," and coordinated activities to let local students participate in international conferences.
Currently he is studying in Germany and expecting to finish his graduate studies in Public Policy in 2017. At the same time, he is planning to launch a new NGO aiming at increasing educational opportunities for the youth in developing countries. Fernando is fluent in six languages: Spanish, English, Mandarin Chinese (undergraduate degree program was in Mandarin Chinese!), Japanese, Guarani and Portuguese.