Ghada Al Haddad
Translator, Islamic University of Gaza

Palestine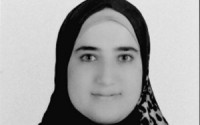 Ghada Al Haddad is a recent graduate with a BA of English Language and Literature from the Islamic University of Gaza. She considers studying English and her involvement in the world of volunteerism as two significant turning points in her life because they have influenced her personality and connected her with people of many cultures.
Ghada has participated in the coordination of three cultural activities to integrate Palestinian culture with others. Such events were: "The Victorian Day," "Box of Culture," and "The American Literature Day." As a head of the latter activity, her corner was concerned about "The Question of Identity in American Palestinian Literature."
In 2015, Ghada was selected to join "MEPI Student Leaders Program" at Georgetown University, Washington DC. She has also joined other local programs like New Generation to develop her leadership and entrepreneurship skills, and is an active member of "We Are Not Numbers," a non-profit sponsored by the Euro-Mediterranean Human Rights Monitor founded after the 2014 war on Gaza, challenging the portrayal of the Palestinians in the Western media by telling Palestinians' stories.
Ghada was motivated to join WISE Learners' Voice by her belief that education is an important for the development of her country.