Dr. Kathy Perkins
Director, PhET Interactive Simulations Project

United States of America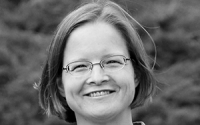 Dr. Kathy Perkins is Director of the PhET Interactive Simulations Project at University of Colorado Boulder (CU). She serves as a faculty member in physics and a fellow of the Center for STEM Learning, and directed the CU Science Education Initiative from 2010-2015. She holds a BA in physics, MA in chemistry, and PhD in earth and planetary science, all from Harvard University. She transitioned to science education research in January 2003 as a post-doctoral researcher with Dr. Carl Wieman.
Since then, her work in education and education research has focused on advancing STEM education, and has included work and research on pedagogically-effective design and use of interactive simulations, sustainable course reform, students' beliefs about science, and institutional change.
She has authored over 50 articles on STEM education and served as a PI on 21 grants totaling over $13 million in funding. During her tenure as director, the PhET project has seen usage grow from six million to 80 million sim uses per year and has received international awards, including the Tech Award for technology benefiting humanity ($50K) in 2011, and the 2014 Reimagine Education Award ($25K) for innovative pedagogy.