Michel-Ange Dagrain
Computer Science Student

Haiti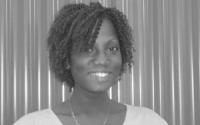 Michel-Ange is a third-year student in Computer Science at ESIH, a private university in Haiti. She comes from a poor family and even though her mother has never been educated, she is conscious that education is the path to success. Michel-Ange was awarded a merit and need-based scholarship from the Haitian Education and Leadership Program (HELP). 
Michel-Ange is a member of the Women's Peer-to-Peer Network, a group that seeks to prove that women are capable of communicating successfully through technology and showing how smart, creative and strong they are. She has also tutored classmates and participated in student recruitment for both HELP and ESIH. She served as a translator for a variety of human rights groups who conducted surveys in post-earthquake Haiti and did volunteer work with Lamp for Haiti, UNIRED and BIA. 
Michel-Ange dreams of integrating up-to-date technology into Haiti's public institutions and would also like to make technology accessible for students in Haiti. She would like to create an Educational House where poor Haitian children can be educated for free and learn how they should use their skills to save their country from poverty.