Mueataz Hamed
Mechatronics Engineering Graduate

Yemen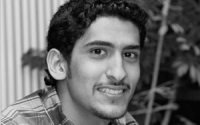 Mueataz is a recent Mechatronics Engineering graduate from the University of Rostock, Germany. He was born in Aden and raised in different countries since his father worked as a Diplomat in the Yemen Ministry of Foreign Affairs. 
In 2007-2008, Mueataz received a scholarship from the Kennedy-Lugar YES exchange program to finish high school at Spokane, WA, in the United States of America. He decided to pursue his college degree in Germany because of the higher educational standard in engineering. In October 2013 he began studying for a Master's degree in Aircraft and Aeronautical Engineering at the Technical University of Braunschweig.
Besides his interest in being an engineer, he has been active in community development by starting the first anti-Qat campaign to combat the use of a well-known drug in his country and to raise awareness of this issue among local people. He has attended several series of conferences in the fields of community service, education, politics, religion, green economy and sustainable development.
Mueataz will contribute to the field of education by running small workshops on robotics for Yemeni youth in the near future. As a career objective, he is aiming to get work experience in one of the biggest aircraft or airline companies in Europe, before his return to Yemen. In the meantime he is focusing on making the best out of the Learners' Voice program to achieve his future plan of helping his country.