Muhammad Bilal
International Economics Student

Pakistan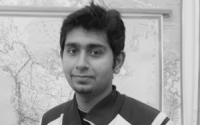 Muhammad is a sophomore at Georgetown University School of Foreign Service in Qatar and is pursuing a Bachelor's degree in Foreign Service concentrating on International Economics. Muhammad claims to be a self-styled aesthete, a hopeless idealist, a film maker and an International Relations enthusiast who is committed to fulfilling his lifelong ambition of taking over the world one day. 
Muhammad was born between Islamabad and Lahore (Pakistan). While in Pakistan, he was involved in numerous student-led initiatives, organizations and societies, both within and outside school. Most of the Mohammed's initiatives revolved around social activism, community service and, above all, public speaking. 
Since coming to Doha, Muhammad has developed a keen interest in sustainability issues in Qatar, and at present is researching Sustainability in Education City for the Qatar National Research Fund. Aside from Sustainability, he is also interested in international political economy, child and adult literacy, migration issues and conspiracy theories.