Rayah Algheithy
Career Counselor, Saudi Aramco

Saudi Arabia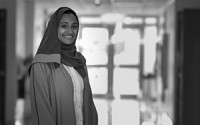 Rayah is a Saudi national, but received her primary education in England, secondary in Saudi and undergraduate in the USA. During her first year of university, Rayah volunteered to help repair flood-damaged homes in West Virginia. This trip opened her eyes to the circumstances of disadvantaged communities, and from then on Rayah has actively tried to advance her knowledge of development projects.
Rayah has worked with poverty alleviation organizations in Washington DC., Habitat for Humanity, served as a committee member in THON; a philanthropy enhancing the lives of children impacted by cancer, and as a facilitator at the "World in Conversation Center for Public Diplomacy". Her experience facilitating cross-cultural dialogues between students highlighted the human aspect of development and furthered her belief in the field.
Rayah graduated from Pennsylvania State University with a BS in Management Information Systems, a BS in Economics, and a minor in Sociology. Rayah later co-founded "Our Family", an organization aiming to elevate low-income families out of poverty by improving home environments, tutoring children, and assisting with employment. Rayah is currently a Career Counselor at Saudi Aramco. She aims to pursue her MA in Economic Development.