Roné McFarlane
Journalism student of Stellenbosch University

South Africa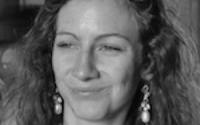 Roné is a young journalist from South Africa. Before journalism, Roné studied education. She hopes to combine the two fields by using journalism as a means to create awareness of problems and inequalities in the education system. She has a passion for education because she believes it can empower people, acknowledge their human dignity and create a better future. 
 
Roné has been involved in various community service projects in South Africa, as well as other countries such as Swaziland, Lesotho, Mozambique, Bosnia and India. In most of these countries she has led teaching programs at local schools and orphanages.
 
Through her position on the Student Representative Council of the University of Stellenbosch, she was running various projects in environmental affairs and environmental education. Roné also started a bursary fund to aid students in need at her university in order to ensure access to education for more students. 
 
Roné has a wide variety of hobbies such as reading, writing, making music, singing, acting, playing tennis, participating in athletics, and public speaking.
 
She is currently working for the travel magazine Go and will be going to the UK with the Abe Bailey Travel Bursary in November 2012.
 
As a representative of Learners' Voice, Roné took part in the India Youth Forum in New Delhi, from March 29 to April 1, 2012.