Ronel Lefranc
Student of HAITIAN EDUCATION & LEADERSHIP PROGRAM (HELP)

Haiti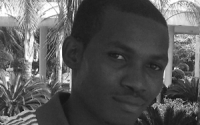 Ronel graduated in agronomy and environmental sciences at Quisqueya University in Haiti, for which he is currently writing his final thesis. He is also working with the non-profit organization GiveLove Haiti on an eco-sanitation project.
Having lost his father at the age of 10, overcoming adversity has been a constant theme in Ronel's life. Lack of basic necessities did not deter him from working hard, obtaining scholarships and ultimately attending Haiti's top university with the assistance of the Haitian Education and Leadership Program (HELP) that provided him with a merit-based scholarship.
After the devastating earthquake of January 12, 2010, Ronel volunteered to work with US President Bill Clinton's special envoy in Haiti via the "Voice of the Voiceless" program.
Ronel received a scholarship to attend Dartmouth College in New Hampshire for two terms as an exchange student, and afterwards the Communicating for Agriculture Education and Scholarship Foundation (CAEP) awarded him a scholarship for his outstanding achievements and goals.
Ronel attended the 2011 WISE Summit as part of the Learners' Voice program, and back in Haiti he continued with his commitment to the field of education by creating ACTIVE ("Action toward Initiatives and Volunteering for Education"), a group that promotes voluntary work among students for community development. Ronel has always dreamed of making a difference to his society and is working hard to make that dream a reality.
As a WISE Learner, Ronel took part in the 6th World Youth Congress in Rio de Janeiro, Brazil, on June 4-13, and participated in the study trip to the Self-Sufficient School in Cerrito, Paraguay, on July 1-10, 2012.