Tala Hammash
Culture and Politics Student

Jordan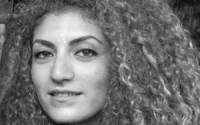 Tala is a fourth-year Palestinian student and basketball player pursuing a Bachelor's degree in Foreign Service at Georgetown University's School of Foreign Service in Qatar. She is majoring in Culture and Politics, completing a minor in American Studies, and pursuing an honors thesis on Development through Athletics and the Sports Management Industry.
Tala's major passions revolve around social justice and the empowerment of women, children and less privileged communities through modern means. She sees education as key to achieving this. She has worked with political studies centers to research the political, social and economic effects of the Arab Spring on women. She has also been an active member of community engagement and service learning programs since she was 13. 
Tala is certified in Disaster Management by the Red Cross, has participated in the Labor Equations program for migrant workers, and has trained youth interns for the TEDxYouth Doha conference. Through her numerous experiences with various communities she has learned that education can accelerate development at all levels and break vicious cycles that entrap entire communities in hardship or stagnation. She hopes to continue being an active global citizen and develop her skills and knowledge in the areas in which she is involved.