Yvens Rumbold
Communications Officer, Foundation of Knowledge and Liberty (FOKAL)

Haiti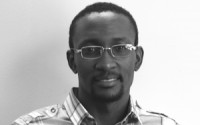 Yvens Rumbold is working for the Foundation of Knowledge and Liberty (FOKAL) as Communications Officer. Before that, he worked with Internews in its humanitarian program, Enfòmasyon Nou Dwe Konnen (News You Can Use). In this project, the Internews team helped to assist local radio stations to continue to work. Six months after his integration, Yvens Rumbold became Chief Editor for the program.
With its association, Association Tonnelle Action, Yvens is also participating in a great initiative to give thousands of books to the municipal library. He is currently creating a debate club in his hometown to foster the education of young people and intends to do the same in other cities.
Besides his work and study, he invests in building a network of young Haitian leaders for national and cultural development. Yvens believes in the strength of young people and their capacity to transform individual successes into collective successes and in the one thing that is most necessary to embrace Haiti's future with hope and happiness: education.
He is interested in journalism, communication, the social media, leadership, entrepreneurship and international relations. These past five years of national and international experiences have helped him develop professionally and intellectually while he is finishing his Bachelor's degree in social communication at the Haitian State University. He has traveled for youth conferences and activities to Canada (nominated as a Youth Ambassador for "Francophonie" in the Americas) and the United States, where he received training in public policy and leadership.