Multi-dimensional violence in Colombia has had a devastating effect on socio-cultural, political, economic, and environmental terms. Youth, who represent 28% of the country's population, is perhaps one of the most vulnerable groups. 32% of the registered victims of the armed conflict are young, the youth unemployment rate is 16%, and the school dropout rate is 4.56%. In Medellín alone, it is estimated that at least 79,000 young people are at risk of being victims of forced recruitment by illegal armed groups, while around 62,000 could be on the verge of committing a crime. Already since the 1990s, the author Alonso Salazar captured the despair of young people caught in these cycles of violence, quoting a young member of a criminal gang from Medellín saying, "No nacimos p'a semilla," which could roughly be translated into: "We were not born to blossom." 
From impotence in the face of a reality tinged with blood and darkness, Fundación Mi Sangre was born in 2006, with a deep desire to contribute to peacebuilding in Colombia. In the first years, we focused our efforts on providing psycho-social support to victims of anti-personnel mines. During this time, we lived wonderful experiences of resilience, forgiveness, and self-improvement. During a particular project in remote villages of the departments of Nariño, Meta, and Bolívar, we experimented with art and play as pedagogical tools for healing, and we understood that young people, in addition to being victims, are also the strength behind change and transformation.
Since then, Mi Sangre has focused its work on developing capacities and activating ecosystems so that new generations become leaders who build a culture of peace. For 13 years we have led innovative models of education for peace with which we have impacted more than 1,500,000 children, youth, and adults in 15 departments and 125 urban and rural municipalities in the country. During these years of work where we have also shared experiences with related initiatives from around the world, we have nurtured our conviction that it is possible to build a country where children and young people break the cycles of violence and lead the construction of a more peaceful, democratic, and inclusive society.
Colombia is not the only country where the urgency of placing the preparation of young people as agents of change is at the center of the educational agenda. Organizations such as the World Economic Forum, Ashoka, and Global Change Leaders advocate for the empowerment of youth as an essential condition to respond to the complexity of the social, economic, political, and environmental challenges of the 21st century.
To achieve a systemic change, it is necessary to understand the diversity of environments and actors that affect the learning of young people, such as families, teachers, principals, community leaders, municipal secretariats, and the media, among others. Understanding this universe of actors and experiences, the Mi Sangre Foundation has designed a four-level intervention model; a proposal that has evolved over time in response to the needs of young people themselves and today's society.
This model of systemic intervention and collective construction has left great lessons to re-imagine Colombia, and we represent it through the following image (in Spanish):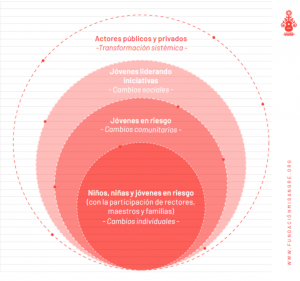 In the following articles in this series, we detail each level of intervention.
The content of this article was translated and adapted from "Reimaginando a Colombia: Visiones del País que Podemos Construir", published in 2019 by Editorial Planeta y and edited by McKinsey & Company.
Learning To Reach Out: Embracing New Ways of Connecting