Numerous crises are going on in our world today: health, climate change, and access to quality education, and this was already true before COVID-19. These crises affect how we teach, what we teach, and the skills we'll need now and in the future.
As a result, there is a growing global movement for educational transformation and an international agreement that young people need to be prepared for a complex and dynamic future. Because of this, we require a transformation agenda rather than a reform strategy. We must reconsider the design of what we teach and how we teach, by involving educators and learners as co-designers of learning.
Since 2017, WISE Agile Leaders of Learning Innovation Network (ALL-IN) has had the privilege of bringing together a global community of people who share a commitment to supporting schools and systems in their transitions toward resilient and future-thriving learning environments that maximize learner outcomes and wellbeing. 
At this moment, when education leaders, policymakers, and funders in every context are making decisions about how to transform learning and education, we want to offer solutions from the ground up. 
Education Reimagined: Leadership for Transformation introduces 23 brief case studies with lessons learned, research evidence and findings. They showcase innovation in leadership, policy and practice on how emerging models teaching and learning can be developed and led from the inside-out—and demonstrate the power of distributed empowerment and transformative leadership.
In this publication, we offer a transformational agenda focusing on three key themes: 
Emerging leadership skills and capabilities 
Teacher and team leadership
The power of networks and clusters for transformational change
All of the case studies and findings of this report are tailored for education leaders or stakeholder interested in outlining a transformation path in their country or educational authority, such as a state or district. It is also intended for civil society groups, donors, academics, and anyone interested in national development via educational leadership development and the role of innovation.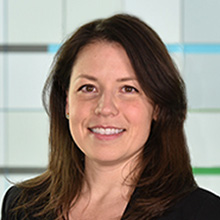 Jennifer Groff, Ph.D.
Founder, Learning Futures Global
Jennifer is an educational researcher, designer, and engineer, whose work focuses on redesigning learning environments and education systems. She is the founder of Learning Futures Global, which supports schools around the world in designing for modern learning. In 2020-21, she was the Research Fellow at WISE, where she led the development and implementation of the WISE Innovation Hub.
Asmaa Al-Fadala, Ph.D.
Director of Research and Content Development, WISE
Asmaa Al-Fadala is the Director of Research and Content Development at WISE. She has twenty years of professional experience in K-12 education and higher education, and was recently a visiting fellow at Northwestern University in Evanston, Illinois. Prior to joining WISE in 2014, Dr. Al-Fadala was an associate policy analyst at the RAND-Qatar Policy Institute.
Anthony Mackay
CEO, National Center on Education and the Economy
Anthony is CEO and Board Co-Chair of the Washington DC-based National Center on Education and the Economy. He was Inaugural Chair, Australian Institute for Teaching and School Leadership AITSL; Inaugural Deputy Chair of the Australian Curriculum, Assessment and Reporting Authority ACARA; immediate past Chair Australian Council for Educational Research ACER and immediate past Deputy Chair of the Education Council New Zealand. 
Case Study Authors:
Amira Al Ma'ayergi

Dr. Claudine Rizkallah Aziz

Neil Barker
Alex Beard
Dr. Barnett Berry
Lisa Black
Dr. Paul Campbell
Dr. Shelby Cosner
Suzanne Cridge
Dr. Jordi Díaz-Gibson
Natalie Fensterstock
Katie Godwin
Charlotte Jones
Ng'ang'a Kibandi
Kathe Kirby AM
Jennifer Lewis
Joanna Moe
Peter Moyi 
Corinna Nawatzky
David Ng Foo Seong
Louka Parry
Dr. Sreehari Ravindranath
Marisa Saunders
Dr. Rania Sawalhi
Sean Slade
Vishal Talreja
Dr. Jordan Tinney
Dr. Nadine Trépanier-Bisson
Heather Singmaster
Andrew Wambua
Dr. Robyn Whittaker
Dr. Abdelaziz Zohri
Six Procurement and Retention Lessons for EdTech Companies