My last memory as a teacher is of being in front of a school, surrounded by students, who were either disappointed or relieved, some crying. It was their last year in secondary school, brought to an end  by the
baccalauréat
, the french national exam allowing students to go to university. Most of them passed, a few didn't – a true rite of passage for all of them, coming from underprivileged areas. 
Measuring my success as their teacher was easy: my goal was to help them pass this exam the best I could. Direct impact, clear goal. 35 students, 28 graduated. 
Now as Director of Learning Design at OpenClassrooms, I'm not talking about dozens of students, but millions of them. Switching to online learning means people can access our courses from all over the world – especially when they are as free and open as OpenClassrooms makes them. Great! 
But then, how can I measure our collective success?
From a 50 meters squared classroom to an online platform, from a direct service to 35 students to leading a team creating new learning content every day, from in-person lessons to online courses, I – for sure – significantly increased my impact. But now, I don't have any emotional scale (number of smiles, number of disappointed faces) at the end of the school year to help me identify if I'm doing well or not. 

"The more control you give up, the more potential for indirect impact" was one of the insights I got from Florian Rutsch who led a thoughtful webinar on systemic impact for the WISE Emerging Leaders fellows. He gave the example of open source and open access – and this is what we do at OpenClassrooms, creating courses under creative commons licence. It means that everyone, from anywhere, can access freely our courses' content, reuse it for their own purpose, share it to their colleagues or friends, write an article on the examples used in the course, or whatever they want. It means that OpenClassrooms gave up control on hundreds of courses.
But then, we don't know who uses this content, and – most importantly – whom it helps to acquire professional skills for a new job, which is our ultimate goal at OpenClassrooms. Sometimes, people reach out to us via an email – or even in the street if an employee is wearing a branded sweater! – to say how much we contributed to their career change. But – how many are they? We don't know. We regularly send surveys to ask people if we helped them in their careers, and some answer, but we know this is only a tiny fraction of the total. 
After Florian Rutsch's webinar, I realized I'll have to accept not knowing this total. Because it is one of the pillars of systemic impact: scaling your social impact means growing your indirect impact. And indirect means something one can't control: an impact OpenClassrooms helps others create in their own life, for their own goals, without being able to fully measure it. For example, a 40 year old accountant learning data on OpenClassrooms platform in the evenings to land a new job. Or a 23 year old student learning how to create a website to increase visibility for an association she supports.
Well, that's good news – it means it's working. And maybe, to figure out this impact, I can imagine a virtual collection of happy faces, the same as when I had 28 students graduated!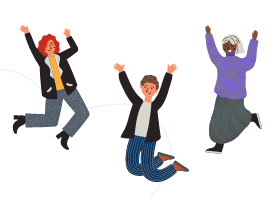 Introduction: Reimagining Education