As part of its response to the COVID-19 crisis, the Ontario Principals' Council offered daily professional learning sessions to its members. Following a short survey, the daily sessions were offered to school leaders regardless of their affiliation. These sessions have been well received and provided some learning opportunities, not only for school administrators, but also for the association itself. 
While Ontario is unique, it is not so different from other jurisdictions in regard to handling of the COVID-19 crisis. Nevertheless, to better situate the reaction of the Ontario Principals' Council (OPC) to this crisis, the timeline for government reactions to the crisis is outlined in Figure 1. 
Figure 1
Timeline for Ministry of education announcements in Ontario.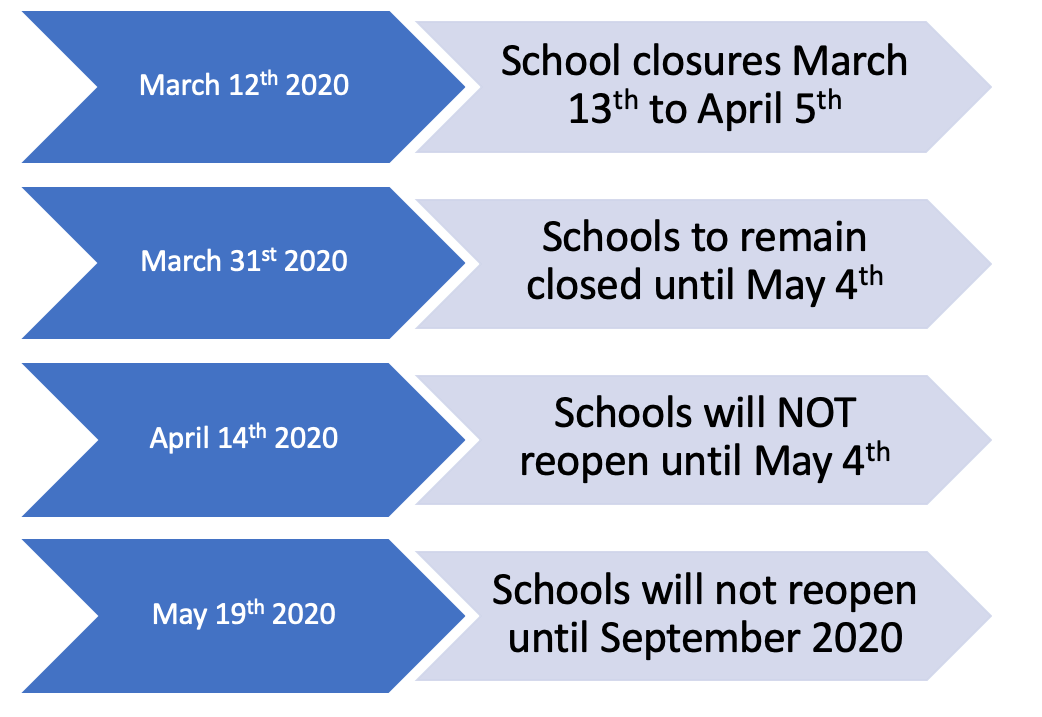 The day following the initial announcement, the OPC began to reflect on how to best support its members through these unprecedented times. During the week following the first announcement, OPC embarked on a multi-prong approach to support members. This included ongoing weekly calls with school district member representatives to check in and understand the issues on the ground, continued one-on-one support for specific situations, regular meetings with education partners, advocacy with the Ministry of education on behalf of principals and students, and increased promotion of the wellness program offered to all members and their families. In addition, attention was given to the professional learning needs of school leaders. During the first week of school closures, while students and staff were on Spring Break, a survey was developed to discern the needs of members in regard to professional learning. The response rate was 9%, a significant increase over the 1% response rate for a similar professional learning survey in September 2019. What the professional learning team heard through that survey was that members wanted professional learning on leadership strategies specific to emergency remote teaching, pedagogy, management, and wellness. 
Professional learning has always been an important mandate for the OPC. However, it is usually planned several months in advance and innovations in professional learning take time to operationalize. In this case, time was not a luxury the association could afford. With some urgency to serve our members, the results of the survey were used to launch a "Just in Time" professional learning series with daily offerings beginning April 1, 2020, as well as three book club opportunities. The themes for each of these sessions were first identified through the survey and then through feedback forms from each session. Facilitators were recruited amongst members with expertise, independent contractors, professional speakers, and researchers. Each session began at 8 am and several formats were used depending on the topic: two-hour workshops, one-hour webinars, and group discussions. While these sessions were designed with OPC members in mind, they were made available to all school leaders at no charge. All sessions were recorded and made available to OPC members through the members' website and to registrants through an email link. Since May 19, sessions have been ongoing with a reduced schedule of three sessions per week through the third week of June 2020. 
These learning sessions were meant to provide principals and vice-principals with opportunities to learn with and from one another as they face a global crisis. At least 20 administrators are present at each session with some sessions having over 200 participants. The feedback has shown that the sessions start each day with positive messages and have helped to keep principals and vice-principals engaged. Almost all the participants report that the sessions have provided support with issues specific to the pandemic or as they consider their leadership practices as school leaders. In addition, participants reported that the sessions helped with their wellness as they were able to connect with colleagues outside their school districts and have candid discussions about some issues they face as administrators while sharing their own practice. 
As an organization, there have also been some important takeaways from these sessions. Notably, the importance of offering professional learning beyond our membership and daring to innovate in those opportunities. The series in itself has been a learning opportunity for the OPC's professional learning team. At the same time, many of the individual sessions have contributed to a better understanding of the needs for future professional learning. As a result of these sessions, the OPC will expand its offerings in the Fall to include regular discussions with researchers and small group exchanges between colleagues, not to mention some deeper professional learning projects that will support cohorts of leaders throughout the school year. 
To be innovative is to take risks. To take risks is to be willing to fail and learn from those failings. Together, with a team of passionate professionals and engaged administrators, innovation becomes possible. It is a privilege to create new opportunities for professional learning that support the work of principals and vice-principals as they work to ensure students' academic success and wellbeing. 
Love in a Time of COVID-19 Snapshots from the Frontline: Interventions, Practices, and Rapid Responses