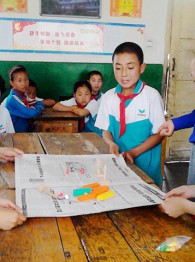 About the Project
This project is one of the 2016 WISE Awards finalists.
1KG Box is a program that designs and produces courses in the form of a box for teachers in rural China. These include an "Art Box", "Road Safety Box", "Reading Box Box" and "Handicraft Box', among others. 1KG Box believes in empowering communities and giving educators the capacity to address local issues with their students. Boxes are designed based on group learning and student-centered teaching.
Project 1KG Box stemmed from project 1KG Or More, which is a public welfare movement in China to encourage people to bring one kilogram or more of school supplies to rural schools when traveling. The initiator of Project 1 KG Or More, Andrew Yu, realized that problems affecting rural schools could not be solved only by increasing supplies. Indeed, most rural teachers lack the experience and knowledge to provide their students with appropriate education in all disciplines, especially as they also dedicate a large part of their time invested in their students' personal lives. The project is being run as a social enterprise and boxes are sold to companies and foundations.
Context and Issue
In rural China a single teacher is often responsible for teaching three to four disciplines to all the students at the school and tends to be overburdened with work. Additionally, children in rural China often lack an adequate family education. Most of them belong to the generation of so-called "left-behind" children because they live with their grandparents while their parents work in remote cities. Without the appropriate education in problem solving and critical skills, the gap between urban and rural education in China is becoming increasingly large. 1 KG Box was thus designed primarily to make the work of teachers in rural China easier, give rural students the opportunity to resolve real-life problems, and give them confidence.
Solution and Impact
1KG Box is designed as a classroom kit containing materials for activities and visual guides. It is intended to provide teachers with the relevant knowledge and tools to teach their students practical skills. Each type of box is based on a theme related to life skills or practical abilities and relies strongly on gamification. 1 KG Boxes are sold to companies and foundations, while teachers in rural China can receive boxes free. So far, 840,000 such courses have been provided free of charge to rural students. 
At the end of 2015, 1 KG Box started a new project call Curiosity Lab, which has created a "live textbook" that relies on local people, content and space. For each theme explored, students have two mentors: one is an expert in the field (culinary, travel, sales, etc.) and the second mentor is a teaching consultant. The teaching consultant uses pedagogical methods to design the learning process. So, students can learn various knowledge and skills with these two mentors through experiments, research, and design. Finally, students apply this knowledge and skills to real life situations.
As of January 2016, more than 2,000 schools, 5,155 volunteers, and 258,260 students had benefited from the project. 
April 26, 2016 (last update 12-31-2020)