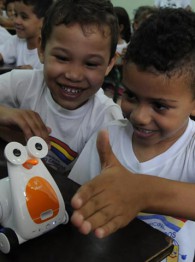 About the Project
The program enables children to familiarize themselves with the functioning and characteristics of smart robots through creative educational methods. Smart Robot Coding School has developed a programming education solution that helps children learn not only science, technology, engineering, and mathematics (STEM) but also how to think like a computer (logical thinking, problem solving capacity, and creativity). The program can operate even without a high-spec computer or Internet environment. It is an education solution that also enables easy understanding of hardware and software technology such as digital literacy. As such, both teachers and students can easily install, manage, and learn using the solution.
Context and Issue
SK Telecom believes programming education is necessary to foster potential human resources fit for the digital knowledge-based era. Therefore, based on its expertise as mobile operator, the company introduced 'Smart Robot Coding School,' encompassing mobile, robot, software and communication.
Solution and Impact
In 2012 SK Telecom launched two educational robots. In 2014 it applied a mobile-based coding education program STACK to its robot 'Albert.' Through interaction with a mobile device and robot, children can naturally enhance their own computational thinking. Parents/teachers can simply plug their phone to the robot to enable the solution. As the only firm that both develops coding products and runs educational programs, user needs are reflected in the development stage, making coding education to wider group of users. With its roots in a mobile network operation, SK Telecom's world-class technology has allowed the company to fully integrate various features of the robot and gain scalability from utilizing a mobile device.
The coding education program of the Smart Robot Coding School can be run even without a computer or Internet environment, making it an applicable item in teaching children in mountainous regions, islands, and countries with poor ICT infrastructure.
Smart Robot Coding School is a total learning package providing coding education for children aged 4 to 12. Children can learn coding while solving game-like challenges, and naturally develop reasoning, problem solving skills, and creativity. As the need to nurture software developers increases and coding is recognized worldwide as an effective means, the package is currently being supplied globally, primarily targeting schools, institutions, and governments. Because the program is based on interactive tools and intuitive enough to teach beginners, institutions and governments appreciate that it is not grounded on individuals' capabilities. The program is currently in trials in 30 elementary schools for 1,500 students in France, while Spain's Talentum Schools (operated by Telefonica) in Madrid and Barcelona run a class every Saturday. In Brazil, SK Telecom partnered with local MNO Sercomtel to operate Smart Robot Coding School across 102 primary/elementary schools and provide 30,000 robots. The robots have been exported worldwide.
Future Developments
In Korea, SK Telecom plans to expand its social contribution program called Mobile T.um, which is in operation in small schools in rural areas where children do not benefit from IT education, by providing the Smart Robot Coding School services in such regions.
Globally, Smart Robot plans to expand their project conducted with IADB to all regions of Latin America, including Costa Rica, and cooperate with the New Zealand government to join its project for kindergarten and elementary school students' education using ICT. We thereby plan to contribute to the improved software education of children worldwide. 
April 26, 2016 (last update 12-31-2020)