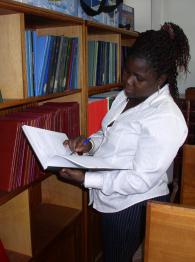 About the Project
This project is one of the 2012 WISE Awards finalists.
ACBF provides institutional support to revive infrastructure, strengthen human resources and enhance institutional leadership in the participating universities.
Context and Issue 
The African Capacity Building Foundation (ACBF) University Partnerships works with African universities to improve tertiary education and unleash the potential of higher education in building the institutional and intellectual capital essential for enhanced governance at the regional, national and institutional levels. It also seeks to strengthen African states as democratic entities through developing appropriate local solutions to the continent's problems and the active participation of Africa in the global knowledge economy. 
Solution and Impact 
ACBF University Partnerships consist of over 50 programs of technical and financial support to tertiary institutions across Africa, geared towards increasing the pool of skilled professionals in economic policy management, public-sector management, financial management and accountability. Invaluable lessons learnt through such support include: the crucial role of African ownership and leadership in the institutional development process; the centrality of capacity development, and the need for greater effectiveness of academic institutions to enable them to nurture pools of qualified expertise; the critical role of partnerships in addressing institutional capacity challenges; and the long-term nature of capacity development interventions in African institutions of higher learning.  
Partnerships with African universities and tertiary institutions are spread across Africa. The programs have collectively produced over 5,000 alumni occupying leadership positions throughout the continent and beyond. The Economic Policy Management (EPM) training programs, established in seven universities in Cameroon, Côte d'Ivoire, the Democratic Republic of Congo, Ghana, Mozambique, Uganda, and Zambia, have gained great visibility and positive recognition as their graduates join public-sector institutions and contribute to policy change in their respective countries. Regional training institutions and programs contribute significantly to scaling up economic policy analysis management, while developing institutional leaders across Africa. Alumni of the African Economic Research Consortium Collaborative Masters Program (AERC-CMAP) that provides postgraduate training in economics account for 40-60 percent of the faculty of the Department of Economics at several universities.
April 26, 2012 (last update 01-10-2021)