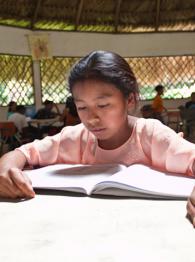 About the Project
This project is one of the 2010 WISE Awards finalists.
Rural indigenous youth in Guatemala are born into a life of exclusion and poverty. Although they are the majority of the country's population, Guatemala's indigenous people have the worst rates of extreme poverty, illiteracy, malnutrition and unemployment. 
Ak' Tenamit, a Guatemalan organization owned and operated by indigenous people, has developed a unique methodology to provide rural-appropriate vocational education for at-risk indigenous youth from communities located primarily in and around protected areas. Its primary campus, located in the middle of the rainforest, is home to some 500 indigenous girls and boys who come from poor rural communities through the country. 
This innovative methodology is based on the indigenous mechanisms for transfer of skills and knowledge which are place-based, gradual, hands-on and holistic, as opposed to western educational methodology which tends to be compartmentalized, vertical and detached from the daily lives of the students.  
Context and Issue
There are 21 indigenous groups in Guatemala and they make up almost 60 percent of the population, but their participation in economic, political and decision-making realms is minimal. In Guatemala, the enrollment of rural indigenous youth in secondary education is minimal and among indigenous girls it is even lower. Traditional secondary education schemes create a range of barriers – economic, cultural, logistical, idiomatic and gender-based – which make it almost impossible for rural indigenous youth to continue their education beyond primary school. Guatemala has the highest level of malnutrition and the worst education system in Latin America.
In order to ensure the full participation and economic development of indigenous communities, it is imperative to facilitate their participation in rural-appropriate vocational education that allows them to take full sustainable advantage of their natural and cultural resources while encouraging their self-determination and the strengthening of their cultural identity.
The Solution and Impact
The educational model values traditional indigenous culture and forms of transfer of skills and knowledge, and builds bridges between social and ethnic groups that are traditionally at odds. The curriculum is modified slightly each year based on feedback from graduates and their employers, as well as an ever-changing projected job market for graduates. A strong rural development and conservation-related job-market-based focus is maintained throughout the educational process, as well as the full involvement of potential employers, who provide technical and financial support and apprenticeship opportunities for students who graduate with 3,000 hours of hands-on experience.  
The project relies on the three following key strengths: full involvement of community, government and the private sector, local ownership and a strong work-study focus. 
The direct beneficiaries are poor, rural at-risk indigenous girls and boys. The indirect beneficiaries are their families and communities. In 2013, the job insertion rate of graduates was 96 percent within two months, by far the strongest in the country. Graduates are seen as village leaders, support their extended families economically and act as agents of change, helping to lift their communities out of poverty. To date, the project has reached over 600 graduates. 
The project has been replicated in El Estor, Izabal and Rabinal, Baja Verapaz, Guatemala. Ak' Tenamit has been contacted by a number of pre-existing organizations interested in implementing its methodology. Ak' Tenamit accompanies the organizations in the implementation, Ministry of Education compliance and leveraging funding from the Guatemalan government. Its advocacy team conducts permanent lobbying activities before different levels of government, private-sector organizations and businesses, indigenous and popular organizations, as well as international bodies, in order to ensure long-term support and commitment. It also holds leadership posts in a number of international alliances related to indigenous peoples, education, biodiversity and climate change.
Future Developments
The project's objectives for the next few years include: 
1. To franchise roll-out of the methodology through pre-existing grassroots organizations throughout Guatemala.  
2. The construction of strategic alliances with local businesses and municipalities.
3. Further buy-in from the Guatemalan Ministry of Education.
4. To increase financial support from the Guatemalan government for all franchise schools via subsidies authorized by the Guatemalan Congress.
5. To share this best practice at the UN, WISE and other international gatherings to promote its application in other regions of the world, especially as it relates to poverty reduction and adaptation to climate change.
April 26, 2010 (last update 12-22-2020)