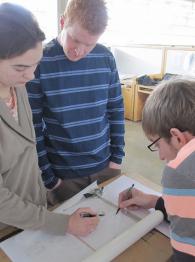 About the Project
This project is one of the 2010 WISE Awards finalists.
Building Performance is an emerging discipline in architecture and building science. This knowledge domain investigates questions of performance in the design and construction of buildings across a range of issues, including physical, material, geometric and "soft" performance issues such as user comfort.  Buildings and their sites have profound impacts on society, resources and the environment.  High-performance buildings are designed to increase positive outcomes in these systems. New methods of architectural design, engineering, and research, such as environmentally sustainable methods and digital technologies, are keys to achieving these benefits. Performance-based design benefits from a broad range of expertise, spanning multiple realms – from architecture to engineering and building science to material science. An increased emphasis on evaluating multiple aspects of building performance responds to current economic and ecological pressures to increase a building's functionality and decrease consumption of valuable resources. In the near future, Building Performance will become one of the most important considerations for consumers and designers in defining a building's value.
Context and Issue
Philadelphia University offers students an opportunity to work across disciplines towards the common goal of developing sustainable housing solutions, giving them the rare opportunity to participate in the design, construction and exhibition of a sustainable design-build project. Projects like the Department of Energy-sponsored Solar Decathlon 2011, "Living Light House", create a cooperative environment in which students learn through collaboration, research and integrative design.
Every decision originates from the students' ideas and is guided by the professors to ensure that students are aware of the implications of every choice. Since it is very important that each student achieves success through experience with – and the application of – sustainable strategies, the professors involved strive to educate students in both passive-natural and active-technological approaches to sustainable design, providing practical experience that students can take with them upon graduation and ensuring that the next generation of design professionals will be prepared to think and act sustainably.
Solution and Impact
The Institute for High Performance Buildings at Philadelphia University, in cooperation with Oak Ridge National Laboratory, implements the latest technological approaches for designing and building sustainable architecture and brings together expertise from the best researchers, engineers and architects to develop, design and build the home of the future. It showcases the latest innovations in building materials, information technology, solar energy, energy efficiency and home design to demonstrate opportunities and methods for using sustainable energy resources.
The Institute encompasses the scientific knowledge and expertise to advance the analysis, control and design of buildings holistically. It includes the detailed analysis of building materials and building envelope systems. The practical purpose of the institute and its focus on building science is to provide predictive methods to optimize building performance and understand or prevent building failures.
The methodology is based on an integrated design process in which design, research and technology are reinforced with topics such as product development, materials science, building physics, climate design, structural mechanics and structural design, design of construction, computation, etc.
Future Developments
The project's upcoming developments include the launch of e- learning tools for students and professionals to disseminate sustainable technologies and knowledge globally. The organization will offer an online MS Architecture Program with concentration on High-Performance Buildings and will continue to consult the private and public sectors in their mission to develop a more sustainable future.
Nelson Mandela famously declared that "education is the most powerful weapon which you can use to change the world." His sentiment seems both ambitious and optimistic, yet as education evolves, the ability to change the world is becoming more than just a romantic ideal. IHPB at Philadelphia is fully committed to opening its classrooms to the world to allow students to enroll in Philadelphia University's unique learning environment. 
April 26, 2010 (last update 12-22-2020)