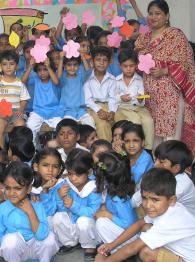 About the Project
This project is one of the 2011 WISE Awards finalists.
Alif Laila was established in 1978 to find and implement solutions to the educational challenges facing Pakistan. The project started as a double-decker bus which was converted into Pakistan's first ever children's library. Alif Laila is also endeavoring to increase the impact of education through project-based learning. It runs four hobby clubs (arts, crafts, electronics, and computers) which foster critical thinking and life skills in the students. It also conducts teacher-training programs in government schools in order to improve the quality of education. It is developing websites to integrate IT learning into classrooms and publishes quality reading materials for public institutions. It set up a library in a government girls' school in Sheikupura in partnership with FOSI and a mobile library that caters to diverse communities. 
Alif Laila believes that all children deserve access to books and therefore runs a mobile library service which brings books to children who would not otherwise have access to a library. The mobile libraries visit schools, hospitals, disaster zones and low-income neighborhoods to promote a strong reading culture among young people in Pakistan. The impact of this social responsibility initiative is national, influencing  tens of thousands of students annually.
Context and Issue
Alif Laila is currently tackling the problem of a lack of reading material available to children of low-income families. It has recently conducted a conference on how to create small libraries in public schools. It is trying to improve learning in elementary schools through teacher-training programs and  developing digital lessons to empower teachers and help children master the basics of English. Furthermore, its hobby clubs offer two-year courses to girls and boys from the local community, providing vocational training which can help them improve their lives. It researches and publishes inspiring and interesting books for local schools to support the current curriculum.
These challenges are important as Pakistan has an extremely young population. Children need access to libraries and good reading materials as these will impact their attitude and behavior when they reach adulthood. Alif Leila's focus is on the education and vocational training of girls to empower them and give them a chance of upward social and financial mobility. Teacher-training programs will empower teachers and improve student understanding to help reduce the school dropout rate.  
The Solution and Impact
Alif Laila was Pakistan's first children's library, housed in a double-decker bus. The innovative model of the project is based on the conviction that libraries do not have to be huge, dreary buildings that are inaccessible to children but can be set up as simple mobile libraries by public-private partnerships or by communities themselves to bring books to children in low-income areas. Through Alif Laila, project-based learning in schools increases the students' ability to solve problems by helping them think out of the box.    
The strength of the project lies in the fact that it is offering out-of-the-box solutions to national educational challenges. The mobile library program is an innovative solution to the problem of mobility faced by low-income families. Also, Alif Laila libraries are cost-effective and easy to set up. This is a model which has been used by local government and various NGOs to create resource libraries in different parts of the country. Operating on a shoestring budget, Alif Laila funds its projects through local and international grants. It uses its funds in the most efficient and productive manner, seeking to achieve its goals at minimum cost.   
The project has changed the perception of libraries in Pakistan. The Punjab government set up their children's library on this model. The project provided trauma therapy to children after the 2005 earthquake in Azad Jammu and Kashmir and the 2008 floods. Its mobile library caters to patients in children's hospital wards. Children in vulnerable situations all over Pakistan can now enjoy reading and Alif Laila is conducting conferences and competitions which will help replicate its library model in the remotest areas of the country with the help of various NGOs. The Punjab government is planning to introduce skill-based learning modeled on the structure of the Alif Laila hobby clubs.
Alif Laila aims to benefit children regardless of their social, economic or religious backgrounds. Its libraries have been used by Madrassah students and by public schools. It focuses on female education and its hobby clubs offer two-year courses to students. Indirectly, it aims to improve the quality of life of families in the lower socio-economic strata. With the development of a digital learning project, it hopes to reach children in even more inaccessible areas. Furthermore, it provides trauma therapy to children in disaster-affected areas and in hospitals.
The project is easily replicable and scalable. In recent years, Alif Laila Book Bus Society has also set up numerous libraries on the model of the reference library, in partnership with different donors. The IBBY has helped distribute 180 Books Build Bridges libraries nationwide, one community library and 150 library kits for flood-affected areas. SC Alliance has helped provide 51 libraries nationwide. The Punjab government also replicated the Alif Laila model as the Children's Library Complex in Lahore. In partnership with FOSI, Alif Laila set up a library in Sheikupura Punjab. "READ, LEAD, SUCCEED", its current project with USAID, has resulted in 140 school libraries.
Future Developments
All knowledge is sacred and in the remote and rural areas of Pakistan, access to even a small collection of books in the corner of a general store can open up new horizons for children. Alif Laila therefore aims to create small community libraries in villages all over Pakistan. Libraries are not just huge buildings with thousands of books. The project plans to open Pakistan's first Library Park where children take part in activities that provide them with hands-on learning. Partnering with the Pakistan Reading Project, funded by USAID, Alif Laila will be helping set up 300 community libraries and run six mobile libraries all over Pakistan.
Alif Laila recently conducted a conference on setting up small, inexpensive libraries across Pakistan. It will provide awards to the most innovative project proposals and monitor their development as they serve as models in their communities, with financing from the Sharjah IBBY Fund. The project also plans on conducting book drives in major cities to supply the library movement. The plan is to upgrade the park where the reference library is located and turn it into a hands-on learning area with help from the Punjab government and other donors. The project is also seeking to work on ways in which it could provide digital material for children across the country.
April 26, 2011 (last update 12-23-2020)