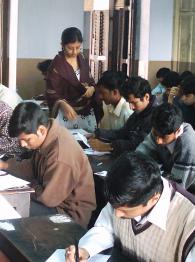 About the Project
This project is one of the 2011 WISE Awards finalists.
The objectives of the Scientifically Tailored Employability Program (STEP) are: (1) enabling people (helping underprivileged young people with productive skills to engage gainfully); (2) empowering business (with readily available skilled resources); and (3) enriching society (by generating wealth where it matters).
STEP is an end-to-end "livelihood through skills" solution involving job opportunity awareness and counseling, employability pre-assessment and training needs analysis, needs-based vocational skills training, evaluation, certification and (self) employment linkage in emerging trades.
The program is an example of outstanding educational practice in transforming education because it bridges the gap between industry and academia by integrating skills' development with formal education. It is collaborative in using a revenue-shared public-private-partnership model that works; self-sustained because the beneficiaries pay for services; innovative in offering an end-to-end solution using continuous improvement measurements; and inclusive because it extends the fruits of development to the poor. The service has been sufficiently productized to be replicable anywhere without diluting quality and enables the extensive use of ICT.
Solution and Impact 
The training program is designed to comprehensively enhance students' communication and soft skills, computer skills and trade-specific domain skills. The content and methodology developed and exhaustively tested over six years use a unique blend of trainer-led knowledge acquisition and practical group activities. Students are continuously evaluated on specific skills' parameters, their progress charted and employability assessed through an indigenously developed model (Industry Employability Index (IEX)) using the weighted average of students' scores against dynamically adjusted industry requirements.
Since 2005, 25,000 candidates have been assessed, in excess of 5,000 trained and more than 4,000 (strike rate 80%) of them employed (30% women). At a minimum average salary of $111 per month, this has helped generate a yearly income of $1,333 for each of 4,000 families (benefiting almost 24,000 persons at an average of 6 persons per family) amounting to a total wealth generation of at least $5.3 million per year where it really matters.
April 26, 2011 (last update 12-29-2020)