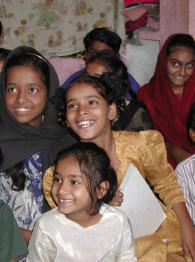 About the Project
This project is one of the 2011 WISE Awards finalists.
The Bridges to the Future Initiative (BFI) in India and South Africa was launched in 2005 with both national bi and multi-lateral agency, and private support. The BFI focused initially on illiterate youth and adult learners, but in recent years, especially in South Africa, it has focused on primary school children. The project is a multilingual ICT-based program providing reading support skills in both mother-tongue and second-language literacy.
Context and Issue
One of the biggest educational challenges today is to provide reading skills to disadvantaged children in low-income countries, especially children from minority language households. Using PCs and tablets, the Bridges to the Future Initiative has charted new ground. It is important to tackle these issues because decades of research have shown that literacy improvement in marginalized communities is one of the biggest challenges in global educational development.
Solution and Impact
The principal concept of the project is to provide language choice to learners from diverse backgrounds, in a very user-friendly manner. The strength of the project lies in its:
Multilingual language choice; 
User-friendly ICT support; 
Ability to complement teachers' knowledge
Experimental research has shown the significant impact of the BFI project as over 10,000 children, youth and adults across India and South Africa benefit from the project. 
Future Developments
At this stage, the project focuses on its activities in South Africa with future regional expansion depending on funding support. The project aims to achieve the latter by gathering confirmatory research and additional national and international support.
April 26, 2011 (last update 04-18-2021)