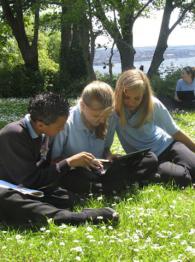 About the Project
This project is one of the 2010 WISE Awards finalists.
In 2003 the Saltash Community School was suffering from low levels of learner ambition and lacked a curriculum and approach to learning that inspired students to excel. Today, Saltash.net is a thriving learning community with an excellent reputation for innovation and inclusion.
Context and Issue
The transformational journey began with a clear vision of the potential of ICT to empower all learners in the community to take their place in the world confidently, competently and safely, while taking risks when necessary. 
Solution and Impact
To publicly demonstrate its belief in ICT's powers to transform the way a generation could learn and its commitment to developing national and international partnerships, the school symbolically changed its name to Saltash.net, bringing it to Microsoft's attention as worthy of investment from its Partners in Learning program. Its partnership with Microsoft has helped transform both students and staff into global pioneers in the creative use of new technologies and ICT. 
Thanks to Saltash.net's innovative curriculum and approach to learning, it is now viewed as a center of excellence for many schools across the world. As a beacon for educational transformation, the school's learning community has become a leader in preparing the next generation of its staff and students to be effective global 21st-century teachers and learners. 
Future Developments 
The changes put into effect over the last seven years offer an example of outstanding educational practice and provide a model that can be and has been replicated in schools across the UK and the world.
April 26, 2010 (last update 01-01-2021)