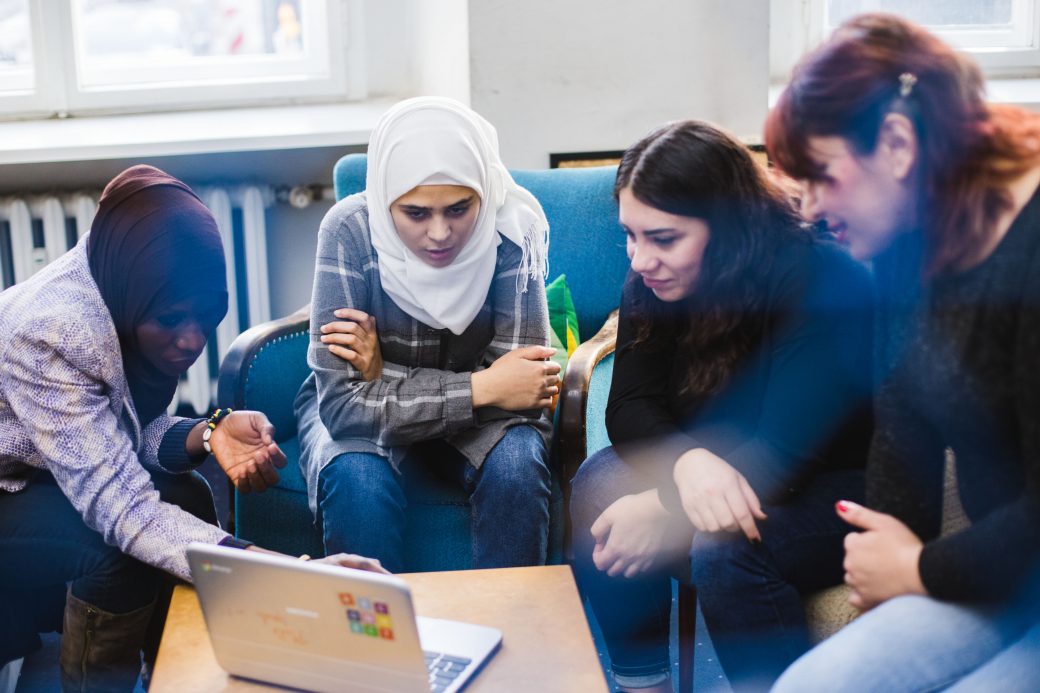 Kiron empowers refugees and underserved communities by providing them with free, high-quality digital learning opportunities. On Kiron Campus, Kiron's online platform, refugee learners can participate in a variety of online courses that equip them with essential skills necessary to enter the workforce, prepare them for university, or foster personal development.
COVID-19, climate change, and conflicts all play a vital part in the context that Kiron is operating in. Forced migration is a global challenge with almost 80 million people affected today (UNHCR), and we have only seen the start of it. The dramatic effects of climate change are forecasted to displace 200 million people by 2050 (Oxford Research Group), increasing the number of refugees and camps around the continents. The COVID-19 pandemic shook the world in an unprecedented way, leaving an already fragile community – refugees – even more vulnerable and ostracized from society and excluded from the opportunities. Refugees worldwide face structural barriers to education, employment, and quality of living. With the global pandemic and the restricted access to the job market, remote work and online learning are the most promising routes to employment for displaced people, but many lack essential skills to make use of these opportunities. In addition, COVID-19 has turned the education sector upside down. While many schools and universities across the globe are successfully adapting to online teaching methods, millions of refugees remain shut out. Furthermore, NGOs and other aid organisations who have been delivering education to refugees in a brick and mortar environment have been struggling to transport their offline education into the online sphere. Thus, the transition to online learning continues to expose the digital gap between countries and societies.
Kiron empowers refugees and underserved communities by providing free, high-quality online education for academic, professional and personal growth. At the core of our operations lies the Kiron Campus – a digital learning platform developed for refugee learners. It is an easily accessible learning environment, mobile-first, and reachable via any standard web browser or the Kiron Campus Android app. Kiron offers free, tailor-made learning programs combining Massive Open Online Courses (MOOCs) from renowned educational platforms, Open Educational Resources (OERs), and learning materials developed in house, tailored to the students' needs. A big focus lies on short certificate programs, called Skill Booster Programs, that prepare students for the ever-changing demands of the job-market and the new realities and opportunities of remote work. Kiron enables students to be successful on their educational path thanks to the extensive support services. These include mentoring program – where students are matched with a mentor from a corporate world, job readiness initiatives – such as webinars organized by our corporate partners enabling students to be better equipped in their job hunt process, language courses, and access to forums and other community resources. Studying on Kiron Campus helps students become more confident and independent online learners. 85% of our students reported increased organisation, time management, and learning method skills, which are crucial in their future studies and employment. Kiron's generous course catalogue offers students opportunities to advance on their track to enroll to a university, find a job, or simply advance in their personal and professional development. In addition, in Lebanon and Jordan, we offer blended learning programs to reach the most vulnerable populations, such as women and youth in camps.
We aim to create a world in which everyone has equal access to education. Knowledge is the key to empowering marginalized groups, like refugees, to be self-reliant and build more prosperous futures. Students will continue to benefit from access to new and innovative offers and opportunities, we will increasingly focus on inclusion, reaching more female learners, and improving access for students in low bandwidth and in conflict regions. Furthermore, we strive to grow collective impact together with our partners, aiming to close the learning gaps that our students face globally. We plan to open up our digital learning platform to other like-minded organizations and to reach even more refugees and digital learners. Through this undertaking, Kiron shares its expertise in digital learning by enabling partnering organizations to successfully transition from traditional (offline) learning environments to digital or blended ones.
March 01, 2021 (last update 03-14-2022)