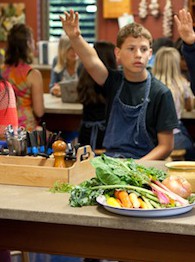 About the Project
Started in 1995 as a one-acre garden and kitchen classroom at the Martin Luther King, Jr. Middle School, in Berkeley, California, the Edible Schoolyard Project is a model public education program that instills the knowledge and values students need to build a humane and sustainable future. The program is internationally recognized for its efforts to integrate gardening, cooking, and sharing school lunch into the core academic curriculum.
Context and Issue
For more than twenty years, ESYP has seen students' minds and senses awaken and transformed through hands-on, experiential learning in garden and kitchen classrooms. The impact of this pedagogy is greatest when academic subject matter moves off the page or projected screen and is infused in the real work, experimentation, and physical discoveries that students make about soil, sun, seeds, and stalks.  
Like physical education, edible education supports the overall well-being of students and is necessary to improve student knowledge of nutrition, encouraging children to make healthy decisions about food and their bodies, teaching children valuable garden and kitchen skills, educating children about the environment and agriculture, and exposing them to different food cultures and traditions. Edible education also enhances education in core subject areas such as science, math, and humanities through hands-on lessons in the garden, kitchen, and cafeteria environments.
Solution and Impact
When the organization was founded in 1995, the notion of incorporating lessons in kitchen and garden classrooms into a traditional academic curriculum was new, to say the least. Since that time, ESYP has led the creation and growth of the edible education movement throughout the United States. In the last several years, the organization has launched several new innovative initiatives that have enabled them to reach more children around the world.
The Edible Schoolyard Network was created in 2012 as a free, web-based platform built to support the creation, growth, and enrichment of edible education programs and the movement as a whole. It maps the movement and allows educators, administrators, and parents to exchange ideas and resources. Since the launch, 4,038 programs, in 57 countries and in all 50 states of the USA have joined the network. 
In addition, ESYP has offered an Edible Schoolyard Academy program each summer since 2009 that brings educators from around the world to the school site and innovation hub in Berkeley, CA. The ESY Academy is the preeminent global training program where educators learn to integrate a holistic edible education approach into both emerging and established kitchen and garden programs. The more than 400 Academy alumni have helped bring edible education programming to thousands of children around the world.
In terms of impact, ESYP welcomes more than 1,500 people who visit and attend tours each year. In addition, the organization directly teaches 1,000 students and their families. Through a yearly teacher training Academy, ESYP trains 100 leading educators from around the world, and the three-year old Edible Schoolyard Network represents and connects more than 4,000 school-based programs, and more than 10,000 educators and advocates throughout the world. 
Future Developments
With regards to future developments, the organization's leadership and board of directors are implementing several new strategies focused on improving the capacity of the organization to increase grant funding and earned revenue.
These include: 
• Collaborating with movement partners to create collective impact
• Aggregating evidence that edible education improves learning
• Advancing the ESYP approach to change in allied fields. 
April 26, 2015 (last update 12-30-2020)