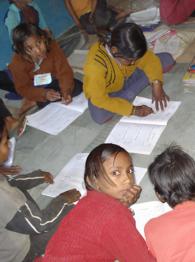 About the Project
This project is one of the 2010 WISE Awards finalists.
Naandi provides focused academic support, or "tuition", to children in Grades 2 to 5 in government primary schools in five Indian states (Andhra Pradesh, Madhya Pradesh, Chhattisgarh, Rajasthan and Maharashtra), using a new learning template involving young facilitators and grade-specific lesson plans that enable hundreds of thousands of children to improve their skills. Naandi's Ensuring Children Learn program has made it possible for young people to realize their dreams of leading a respectable and productive life in regions where violence and unethical means of making money are increasingly becoming the only option.
Solution and Impact
The program is headed by management professionals and senior educational experts, and staffed by a field supervisor and locally recruited youth, called Community Activists, who tutor the children. The children's parents and government schoolteachers are also integral components of the program's delivery mechanism.
With this program, Naandi Foundation has taken over part or full responsibility for providing educational input for children in over 1,700 government schools and ensures that all children – including marginalized minorities, Dalits and tribes – actually learn. Learning levels improve by 25-30% annually, many students receive top grades in competitive exams, and attendance rates increase by 30-40%.
April 26, 2010 (last update 12-22-2020)