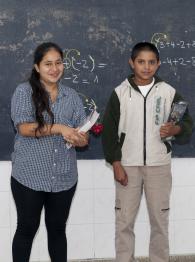 About the Project
This project is one of the 2012 WISE Awards finalists.
Future Graduates' innovative model empowers children to progressively develop the habits, skills and abilities that they need to stay in school and achieve successful educational results. It provides school-based, personalized educational mentoring, financial help, and opportunities for sharing experiences. It also builds a supportive network to strengthen educational trajectories, involving students, their families, teachers and school authorities.
The solution developed by the project is school-based, offering personalized educational mentoring that works with a very diverse population of individuals and their needs. The initiative builds and strengthens a network to support educational trajectories, essential in situations of poverty where networks are broken or non-existent. It encourages confidence in the children´s capacity to overcome the barriers that poverty puts in their way and the potential of non-cognitive or life skills to empower children in school and for their adult lives.
Context and Issue
Poverty is a good predictor of failure in school. Most poor adults lack school experience that can be transmitted to other family members. Teachers expect school habits and competencies to be already developed in children, irregular school attendance by both teachers and students has a negative impact, and unclear rules and their arbitrary implementation do not help children understand how to be students. 
Approximately 500,000 children drop out of school every year in Argentina. Not being able to complete their secondary education excludes them from the system. Only 15 percent of poor students who start secondary level education complete it without repetition. High school in Argentina also receives much criticism for being outdated and far from the social and cultural realities of the children. The students acquire a limited set of knowledge and attitudinal competencies. The project is thus addressing the following issues: 
High school access (98 percent of young people from high socio-economic backgrounds vs. 64 percent from low socio-economic backgrounds);
Dropout (11.6 percent); repetition (10.5 percent);
School year promotion (77 percent); over-age students (31 percent);
Effective graduation (34 percent); poor results in learning. 
Solution and Impact
The success on the project relies on the three following strengths:
1) The mentoring is enriched by 15 years of experience, encompassing diversity and individual needs, and provides a strong impulse for children to achieve more successful educational experiences and increase their chances of graduating.
2) It helps to empower children to progressively develop the habits they need to perform in school and in their lives and build their own sense of strong identity and self-esteem.
3) It builds trusting and reliable relationships, creating a supportive network to strengthen the students' educational trajectories and is easily replicated in other organizations.
Some 10,430 children from 330 schools have participated in Future Graduates since 1998. More than 42,000 classmates and family members have become more actively committed to education. The project has already enabled 2,964 kids to complete high school. Twelve NGOs are implementing Future Graduates in their communities, benefiting more than 750 students. Twenty Argentine districts, Montevideo (Uruguay) and one city in Brazil are reached by Future Graduates.
Future Graduates empowers students to develop skills that help them achieve successful school careers and guide them in their adult lives. Participants achieve greater stability in school, good academic standards and strong commitment. They are the first generation of high-school graduates in their homes and their parents help them complete school. They finish along with their peers from more favorable backgrounds but, while 48 percent of participants complete linear educational trajectories, only 15 percent of their peers do so.
Future Graduates reaches the most vulnerable students in public high schools. Its participants are concentrated in the lowest socio-economic levels. Most of the adults in the families have not completed primary education or have not graduated from secondary education. Unmet basic needs, precarious living situations, overcrowding, household instability and unemployment are often present in students' families. Partnering schools belong to the public education system. They are located in underserved areas and are characterized by student enrollment mostly from families in vulnerable conditions.
The project has been replicated by other NGOs from the northern provinces of Argentina, Salta (Salta), Posadas (Misiones), Villa Allende (Córdoba), Goya (Corrientes), Formosa (Formosa), Resistencia (Chaco), San Pablo (Brazil), Tucumán, Añatuya (Santiago del Estero) and Montevideo (Uruguay).
Future Developments
In the coming years the project seeks to: 
1. Incorporate the importance of non-cognitive abilities in the public policy agenda with evidence from experimental evaluation, continue advocating their inclusion in the school curriculum, and elaborate alternatives to the mentoring methodology so that it can reach a larger number of students who need it. 
2. Explore alternatives with volunteers, student teachers, university students, business employees, virtual mentoring. 
3. Strengthen our alliances with local ministries of education so that they can incorporate the mentoring system into their schools. 
4. Scale up the project by defining an organizational structure, technology and network that would allow for replication and massive access to this mentoring system.
All the above points are in progress at different stages. The plan is to:
Focus on fundraising for innovation and enrich the model to adapt to a more restrictive economic context;
End the impact evaluation on methodology and continue the one that focuses on skills development;
Continue the virtual mentoring program, introducing new strategies and tools;
Initiate a pilot program with university students who mentor secondary students as part of their studies and careers;
Establish alliances with universities, NGOs and public institutions; improve know-how transfer, create the mentor network, incorporate alumni as mentors and find innovative ways to mentor more students at a time.
April 26, 2012 (last update 12-30-2020)