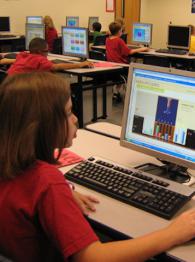 About the Project
This project is one of the 2010 WISE Awards finalists.
Illuminations influences the lives of teachers and students by offering them free resources, including more than 600 lesson plans, more than 100 interactive apps, and a suite of 12 math strategy games. Mathematics teachers use these resources to enrich the educational experience for teaching mathematics, and as increasingly more web apps become available as mobile apps, students are using these resources to learn everywhere by being able to play anywhere.
Illuminations resources encourage students to discover math's in new ways, focusing on developing conceptual understanding rather than concentrating solely on skills. Each lesson plan contains detailed instructions that explain how a teacher can implement the lesson, while also learning about effective pedagogical strategies, providing helpful resources for immediate use and contributing to the improvement of teachers' practice in the future.
Context and Issue
As Illuminations is a project of the National Council of Teachers of Mathematics, it follows NCTM's Strategic Priorities:
1. Access and Equity: Advance knowledge about, and infuse in every aspect of mathematics education, a culture of equity where everyone has access to and is empowered by the opportunities mathematics affords. 
2. Advocacy: Engage in public and political advocacy to focus policymakers and education decision makers on improving learning and teaching mathematics.
3. Curriculum, instruction, and assessment: Provide guidance and resources for developing and implementing mathematics curriculum, instruction, and assessment that are coherent, focused, well-articulated, and consistent with research in the field.
4. Professional Development: Provide professional development to all stakeholders to help ensure all students receive the highest quality mathematics education. 
5. Research: Ensure that sound educational research is integrated into all programs and services provided by the Council. 
6. Technology: Promote strategic use of technology in the classroom to advance mathematical reasoning, sense making, problem solving, and communication.
The Solution and Impact
Illuminations is a partnership between the National Council of Teachers of Mathematics (NCTM) and the Verizon Foundation. For more than a decade, Illuminations has offered standards-based resources that improve the teaching and learning of mathematics. Its materials illuminate NCTM's vision for school mathematics and promote the Council's mission: "to ensure equitable mathematics learning of the highest quality for all students." 
The model proposed provides free teaching resources to ensure more and better mathematics learning of the highest quality for all. All resources have gone through review to ensure quality from specialists in the field. Also notable is the diverse range of resources provided for pre-K–grade12 math educators: lesson plans, interactives, mobile-friendly apps with accompanying resources, puzzles, platforms for interaction, videos, and more.
More than 600 lesson plans, more than 100 interactive apps, a suite of 12 math strategy games, 5 downloadable mobile apps, more than 100 Brain Teaser Puzzles, and a variety of Success Stories demonstrating how the resources are being used. The 28 million reached only includes unique site visitors, and does not include those that value the project's e-newsletters or connect via social media networks.
Beneficiaries are primarily mathematics teachers and students but also include professional development leaders, the math education community at large, prospective math educators, and the general public who enjoy the math games and apps.
Future Developments
With a vision of offering content on mobile devices similar to web experience, over the next year, NCTM will be focusing on auditing and updating appropriate interactive content (apps and games, including those on Calculation Nation) to be mobile-ready, increasing access of these resources. It has already completed 16 web apps for mobile browsers and 5 downloadable mobile apps and will continue to convert more and more of these. In the future, the goal is to establish a more fluid integration of Illuminations' content with other NCTM content on the website, via e-newsletters and social media. NCTM will continue making progress by continuing to provide easy-to-find valuable quality content, increasing access by offering more mobile-ready content, and inspiring meaningful opportunities for engagement.
April 26, 2010 (last update 12-22-2020)