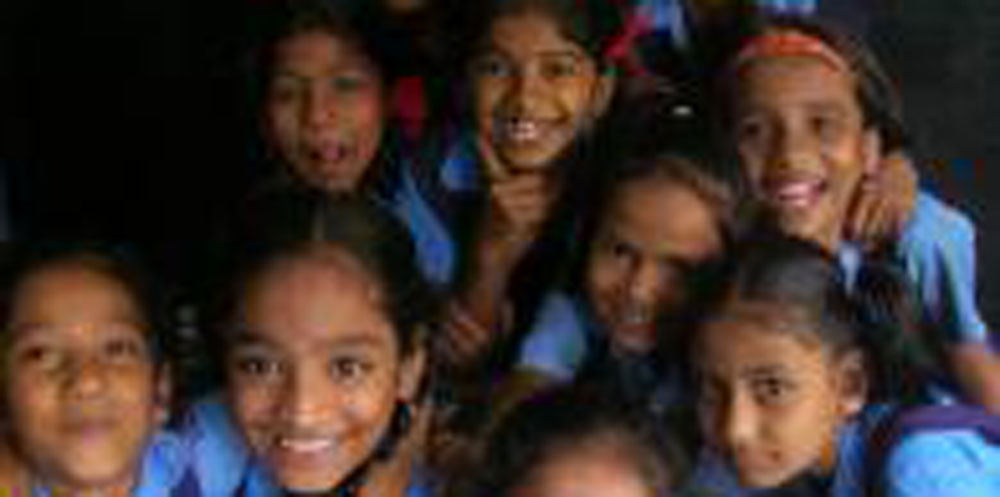 About the Project
This project is one of the 2009 WISE Awards winners.
Mr. Anand Mahindra, the Founder of Nanhi Kali, believes that educated women form the foundation of a modern secular society and that there is a strong correlation between existing societal ills in India such as the spiraling growth in population, dowry deaths, the caste system, etc. and the lack of education for girls. He believes that empowering girls through education will result in huge benefits for the nation in the long term, a fact supported by many World Bank studies. Project Nanhi Kali, which supports the education of disadvantaged girls, has been the flagship program of the K. C. Mahindra Education Trust (KCMET) since its inception in 1996. Since 2005,  the program has been jointly managed by KCMET and the Naandi Foundation.
Nanhi Kali provides 360-degree support to girls from Grade 1 to 10 including:
1.5 – 2 hours of free remedial classes daily where concepts of Math's and Language are taught to girls after school hours.
A school supplies kit consisting of uniforms, 2 sets personal clothing, a pair of shoes, socks, notebooks, stationery, a school bag, a pullover/raincoat & feminine hygiene material.
Provision of Digital Tablets with pre-loaded educational content (both audio and video) for girls studying in secondary school. The audiovisual content enables better comprehension and recall. Each concept taught is followed by an assessment, and only after the concept is mastered the next concept gets unlocked.
Nanhi Kali team works extensively with parents and communities to sensitize them to become collective guardians of the girls thereby sowing seeds of social change in some of the most challenging areas in the country. It's 20+ years of experience working with underprivileged girls has provided significant insights on how adolescent girls require attention beyond the educational support that Project Nanhi Kali gave them till they completed Grade 10, at the approximate age of 15 years. This led to the setting up of N Star Centers which provide safe spaces for girls within their communities where they are mentored and counseled. 
Context and Issue
Even today, 21 million girls in India are unwanted due to parents favoring having sons instead of daughters. Furthermore, it is estimated that there are 63 million women "missing" from India's population because the desire for sons has given rise to sex-selective abortions, and girls suffer disproportionately from disease, neglect, or inadequate access to education and nutrition.  Furthermore, an alarming 47% of Indian women are married before the age of 18 making India home to a third of the world's child brides. A skewed child sex ratio of 914 girls to 1000 boys and poor female literacy rates of 65% at the national level and 46% in rural India also highlights the grim situation of girls in the country. Of the girls who do enroll in school, 50% drop out before Grade 10. Multiple studies have indicated the lack of foundational skills and poor learning levels of children attending government schools. The recent ASER report shows that that 27% of all children in Std. VIII was unable to read a Std. II level text. Almost 57% were unable to solve a 3-digit by 1-digit division sum. Moreover, a recent study has also revealed that only 25% of India's workforce is female. It is at the age of 15 that girls are most vulnerable, and especially in India's urban areas, young girls are often forced to drop out of school to earn an extra income for their families. During their adolescence, they struggle to protect their dignity and live in constant fear of sexual abuse and violence or worse, in some areas even get trafficked across the borders. 
It is against this background that Project Nanhi Kali has transformed the lives of over 350,000 underprivileged girls in some of the most deprived rural, tribal and urban poor areas across India.
Solution and Impact
Project Nanhi Kali is aligned to the Sustainable Development Goals (SDGs) and responds to community needs. It focuses on multi-stakeholder partnerships, engaging with government, NGO partners, the community, individual and corporate donors. It provides after-school academic support to help develop grade-specific competencies in language and math, as girls studying in government schools often leave school without acquiring basic reading, writing, math and problem-solving skills. The N-Star centers established provide girls with an opportunity to imbibe 21st Century skills such as speaking English, using computers and accessing the internet, as well as being financially literate. Once they enter the legally employable age they are taught skills which help them to get placements in formal sector jobs. More importantly, the centers provide a platform to the girls where they can network and team up to tackle any real-life challenge.  The project has developed an innovative pedagogy, including a creative curriculum, to reinforce academic concepts. The project has also introduced technology to facilitate learning at the secondary school level. It focuses on transparency, enabling donors to track their children online. It is adaptable and replicable. 
In terms of impact, the project has had the following results:
3,50,000 underprivileged girls educated since inception
15,000 girls have completed Grade 10 and have gone on to pursue higher education and careers.
Over 100,000 girls from Grade 1 to 10 being supported year on year since 2014.
Currently supporting the education of 150,000 Nanhi Kalis across 5,125 Academic Support Centers through a cadre of 4200 trained Nanhi Kali tutors
Project Locations: In 10 states – Andhra Pradesh, Delhi, Gujarat, Haryana, Madhya Pradesh, Maharashtra, Punjab, Tamil Nadu, Telangana, Uttar Pradesh, West Bengal (earlier worked in Karnataka, Chhattisgarh, and Rajasthan)
Digital tablets provided to 49,000 girls at secondary school level (3 girls share 1 tablet). 
Noteworthy outcomes of the project include reduced dropout amongst girls which is less than 10% in our project areas, improved learning outcomes year on year and increased attendance.
64N Star Centers (50-150 girls in every center) across 5 cities – Hyderabad, Mumbai, Vizag, Chakan & Gurgaon. 
To date, over 8,500 individuals and corporates have donated to  Project Nanhi Kali, enabling it to support the education of over 350,000 underprivileged girls across ten states of India. At present, the project supports the education of 150,000 underprivileged girls pan India. Its significant impact has included curtailing the girl drop-out rate to less than 10 percent and a 10-20 percent increase in learning outcomes across all project areas.
Future Developments
Project Nanhi Kali continues to provide educational support to over 100,000 underprivileged girls yearly. With an objective of reaching out to 'girls on the margins', the project is being replicated in remote, rural communities where the situation of girls education dismal (e.g. The project is being extended to a new district in Uttar Pradesh called Shravasti (near the Indo – Nepal border) which is infamous for child marriage and human trafficking).  
Project Nanhi Kali has recently partnered with leading EdTech organization, Educational Initiatives, to provide girls with access to a personalized, adaptive learning software called Mindspark, which is pre-loaded on digital tablets. This AI powered software matches instructions to the learning level of each girl, enabling her to learn with understanding and thereby, improve her learning outcomes. The girls are taught English, Math and their local language from Class 1-10 and additionally Science from Class 6-10. Through this innovative EdTech solution, the project ensures that girls receive quality education even in remote regions, overcoming challenges such as the lack of qualified tutors and poor connectivity. Further, a professionally designed sports curriculum has been integrated into the intervention to promote holistic development.
May 26, 2009 (last update 01-20-2022)