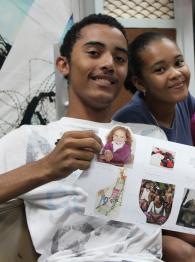 About the Project
This project is one of the 2012 WISE Awards finalists.
TakingITGlobal (TIG) is a global online community that empowers young people to understand and act on the world's greatest challenges. Since 1999, TIG has worked to "inform, inspire, involve" over 450,000 young people through their award-winning online community. Often described as a "social network for social good," the award-winning www.tigweb.org is available in 13 languages and offers a diverse set of educational resources and action tools intended to give young people the tools they need to succeed. More than 40 million people have accessed the website to learn, grow and realize their potential.
As TIG's global community has grown and evolved, educators have sought to integrate its offerings into their classrooms so as to bridge the gap between how students live and learn. This was made easier in 2006 with the launch of TakingITGlobal for Educators (TIGed), which helps educators utilize technology to facilitate transformative international learning experiences for their students. TIGed tools, resources, and programs engage learners in collaborative education that supports student voice, environmental stewardship, and global citizenship. Together, TIG and TIGed engage and connect youth in shaping a more inclusive, peaceful, and sustainable world.
Context and Issue
Today's young people are growing up in a connected yet troubled world, putting pressure on schools to produce problem solvers driven to contribute to positive change. Yet, schools are struggling just to engage students in their learning. To shape a more inclusive, peaceful, and sustainable world, students need to understand their rights and responsibilities in the face of international challenges, develop a sense of respect and responsibility for the world they will inherit and amplify their voices to ensure their education is relevant to the 21st-century context.
As noted by the Partnership for 21st-Century Skills, "today's education system faces irrelevance unless we bridge the gap between how students live and how they learn." The world's schools and classrooms need new approaches and tools in order to engage students effectively in their learning and equip them with the knowledge and skills they need in an increasingly globalized and technology-rich world.
The Solution and Impact
TIG and TIGed are building the capacity of educators to engage their students as learners and leaders in the areas of global citizenship, environmental stewardship and student voice through two critical approaches: project-based learning (PBL), which increases engagement, knowledge retention, and skills such as creativity, collaboration, and communication; and the immersive use of ICTs, which harnesses the power of technology to enhance learning, connections, and expression. These approaches develop and maintain learning environments that respond to the needs of today's student, and will be the most successful in engaging students and preparing them for the future.
In terms of impact, TakingITGlobal evaluates its work through a variety of research methods to observe outcomes of program participation on both of its target audiences: young people and educators. In an August 2013 study of more than 100 educators who participated in its online professional training programs, the following outcomes were observed after completion of one of its three courses:
A 50 percent  jump (61 percent to 91 percent)

 

in educator skills around integrating global educational concepts in the classroom
A 66 percent jump (42 percent to 70 percent) in educators' ability to enrich students' collaborative and cross-cultural learning experiences from global partnerships
73 percent growth (52 percent to 90 percent) in the ability to design student voice projects to meet curriculum goals and school policies
A 78 percent increase (47 percent to 84 percent) in creating a culture of global leadership, in which students are empowered to engage in controversial global issues and create positive change
Future Developments
In the coming years, TakingITGlobal's Strategic Plan is to focus more on three priority areas: Mobile Technology, Models of Change, and Mentorship. These areas also correspond to its newly refined program areas: Digital Youth Engagement, Global Education, and Social Innovation.
To broaden the reach of – and ongoing participation in – its Digital Youth Engagement programs, TakingITGlobal will continue to develop and expand offerings that benefit from mobile technology. It recently expanded availability of its Commit2Act environmental action app (www.commit2act.org) from iOS-only to a cross-platform responsive mobile app that is available across all major smartphone platforms. In 2013, after receiving the Intercultural Innovation Award from BMW and UNAOC, it unveiled Culture Connect, a smartphone-based cultural learning app. In the coming year, it will be releasing several specialized apps to bring TakingITGlobal's most popular programs and site features onto mobile platforms.
To showcase the growing expertise of the many schools that have adopted TakingITGlobal's core education values (Global Citizenship, Environmental Stewardship, and Student Voice), it has launched Future Friendly Schools to provide a Model of Change as part of the Global Education program area. Over 4,000 educators, students, and school leaders from more than 100 countries participated in crowd-sourcing the indicators and principles for the program, and the project is recruiting the founding cohort of schools to participate in the initial certification process now.
After 14 years of growth, TakingITGlobal has many members who joined the community in their teenage years, and are now young professionals with growing skills and influence in their countries. To support increased engagement in Social Innovation, it is working to build opportunities for intergenerational mentorship and skills' exchange within its community, and connected to partner communities. In addition, it has launched Sprout Self, a free self-guided version of its project management and social entrepreneurship toolkit. 
April 26, 2012 (last update 03-14-2022)