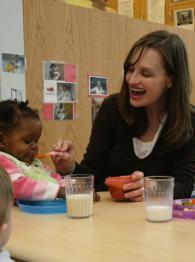 About the Project
This project is one of the 2010 WISE Awards finalists.
Child Care Services Association (CCSA) recognized many years ago that in order to provide quality early care and education services, the education, compensation and retention of the early childhood workforce would need to be addressed. In 1990, CCSA implemented the T.E.A.C.H. Early Childhood® (Teacher Education and Compensation Helps or T.E.A.C.H.) Project. 
T.E.A.C.H. has created change for individuals working on the front lines of a critically important and perpetually under-resourced industry. Over 20 years of steady growth have resulted in an award-winning model and transformative results for the recipients, their families and employers, the children in their care and the higher education institutions where they learn.
Context and Issue
T. E.A.C.H. addresses multi-generational educational issues. It provides access to higher education for low-resourced women teaching vulnerable young children and quality experiences for children who need the best early education possible.
Early educators typically have little formal education beyond high school, often struggle with basic skills, earn poverty-level wages, represent a high proportion of people of color and are almost always women. Access to higher education improves outcomes for them, the children in their care and their own offspring. The best predictor of a child's success in school is her mother's level of education, so children reap the benefits of their mothers' higher level of education.
Solution and Impact
T.E.A.C.H. is a cost-sharing model that spreads the cost of earning a credential or degree among the early educator (recipient), her employer and T.E.A.C.H. – providing the recipient with needed funding, paid release time, a bonus or raise and the support of a T.E.A.C.H. Counselor. Licensed organizations in 24 states and the District of Columbia currently implement the model to fidelity, serving an average of 20,000 recipients annually with the support of a shared database, tools, technical assistance and training provided by the T.E.A.C.H. Early Childhood® National Center.
The underlying innovation of T.E.A.C.H. Early Childhood® is a combination of:
(1) the successful transfer of innovative policy among non-profit organizations to improve the quality of early education programs through building a well-qualified, fairly compensated and stable workforce for the nation's children; 
(2) and the ability for these non-profit organizations to implement, grow and sustain this model to fidelity through a system of supports and quality assurance measures provided by the T.E.A.C.H. Early Childhood® National Center. 
To date, more than 120,000 early educators working in early childhood programs across the country have earned college credits with the support of T.E.A.C.H.  Funding to support the college education of T.E.A.C.H. recipients has resulted in increased capacity in T.E.A.C.H. states to provide the flexible options needed by working adults who work long hours for low pay and typically have dependents to care for as well.
Future Developments
The project's objectives for the coming years include:
Safeguarding the inextricable link between the work of the Center and the stability and promulgation of state projects. 
Increasing understanding of workforce issues among leaders in education, labor, public policy and workforce development arenas

.

Developing a funding structure that includes a mix of generated income and private and public funding sources.
Increasing collaboration with national organizations serving related fields to ensure early childhood workforce issues are supported

.

Developing a T.E.A.C.H. Alliance to engage and mobilize T.E.A.C.H. recipients

.
The project seeks to achieve the above through the center's 2010-2015 strategic plan developed with input from the T.E.A.C.H. National Advisory Committee's collective efforts.
April 26, 2010 (last update 12-22-2020)