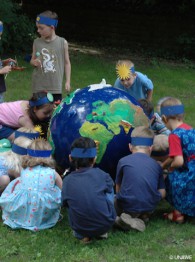 About the Project
This project is one of the 2015 WISE Awards finalists.
Started in 2005, UNAWE aims to intrigue and fascinate children at a formative stage in their development and give them a broad perspective on the world through astronomy and sciences. The purpose is to use the beauty and grandeur of the universe to inspire young children and encourage them to develop an interest in science and technology. The program also aims to introduce children to the idea of global citizenship and tolerance at a crucial stage of their development. While UNAWE's resources are open to all, the program is aimed at children aged four to ten, especially those from underprivileged communities.
Context and Issue
Because it embodies a unique combination of science, technology and culture, astronomy is a powerful educational tool. Space is a gateway to physics, chemistry and biology, to cutting-edge technology and to profound philosophical questions about our roots. The need to observe the faintest objects in the universe has driven many technological developments. The astronomer is the ultimate historian who delves into our deepest past. 
Inspiring children is crucial to motivating them. Once they are motivated, the universe can be used to illustrate the power of rational thought and as a holistic educational tool, for example to encourage reading or math skills by means of space-based stories and problems. 
Solution and Impact
UNAWE's approach seeks to connect top international researchers to young children and their teachers through a four-pronged approach: 
Teacher training: UNAWE prepares teachers so that they introduce astronomy and other science topics in the classroom, as well as to create innovative methods for engaging young children in astronomy.
Development of peer-reviewed educational resources: Aimed at motivating and encouraging learning, some of the flagship resources include an inflatable UNAWE Earth ball, the Universe-in-a Box kit and the UNAWE "Space Scoop" news service for children and teachers (in partnership with several top research institutes) and websites for teachers in ten languages. 
International network: A global platform for sharing ideas, best practices and resources from around the world is available for teachers and astronomers.
Evaluation: An important part of UNAWE activities are the professional assessments since the inception of the program for evaluating the short-term impact. 
Since its inception in 2005 UNAWE has been featured in several international reviews (Physics Today, Science, GOOD) and has won numerous prizes and grants, such as the 2011 Science Magazine Prize for Online Resources In Science Education (SPORE). Also, UNAWE became a Cornerstone project of the successful UN-ratified IAU/ UNESCO International Year of Astronomy in 2009.
So far the project has reached to over 5,500 teachers and more than 200,000 children in over 60 countries.
Future Developments
As a member of EU Space Awareness, UNAWE received an award from the European Union (€2 million) for supporting the implementation of their programs during 2015-2018. Other potential sources of funding are being sought for the next three years in South Africa and Europe.
April 26, 2015 (last update 01-04-2021)