Eldin Buljubašić
Student, Faculty of Political Science, University of Sarajevo

Bosnia and Herzegovina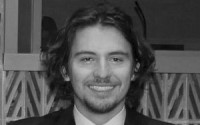 Eldin was born 1992 in Sarajevo during the war in Bosnia and Herzegovina. He graduated from the Faculty of Political Science at the University of Sarajevo. After graduation, he enrolled with the same faculty for a Masters degree, majoring in International Relations and Diplomacy. At the same time, he moved to Istanbul, Turkey to improve his knowledge of the Turkish language. After a year of improving Turkish, and in parallel to finishing first year of his Masters in Sarajevo, he decided to pursue a second Masters degree at Marmara University in Istanbul in the department of Production management and Marketing. Two Masters degrees will have a huge impact on his academic career and further development. He sees his future development in three fields: social entrepreneurship, leadership and education.
Moreover, Eldin is involved in the non-governmental sector. Eldin is a board member of Young European Federalists of Bosnia and Herzegovina. Young European Federalists is an organization at the European level with 25,000 members. He also participated in various conferences, seminars, training courses and round-tables at the local level, as well internationally. Over the years, he got familiar with the work of Youth in Action Program of the European Commission, Council of Europe and various other governmental and non-governmental organizations in Europe. At these events, he gained skills to work at the international level. Since Bosnia and Herzegovina is a multi-ethnic society, Eldin became aware of perspectives of multiculturalism.
After finishing two Masters degrees, Eldin is keen to continue with his future development in academic fields and pursue his doctorate degree.