Florent d'Souza
Fourth-year student in Communication Studies (Media, Industries and Technology) of Northwestern University in Qatar

India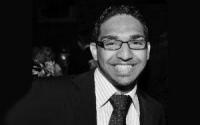 Florent graduated in Media, Industries & Technology (Communication Studies) from Northwestern University in Qatar. He is a Digital Producer for the world-renowned political TV show on the BBC World, The Doha Debates. He is also Head of Communications at TEDxYouth@Doha and Co-Curator for the multi-university event TEDxEducationCity.
 
Florent has played a role in numerous initiatives and programs both on and off campus. In the past he has worked on large-scale philanthropic campaigns such as ECUnited4Afrika and  ECUnited4Pakistan, and has helped organize events with Mercy Corps and Global Citizen Corps.
 
Florent takes a special interest in the fields of human rights, secularism and democracy.
 
As a representative of Learners' Voice, Florent took part in the following international conferences: the India Youth Forum in New Delhi, from March 29 to April 1, and the 11th Youth Assembly at the United Nations in New York, on August 1-3, 2012. During the Assembly, Florent co-founded the group initiative "Learners for Haiti" that won the Resolution Project Fellowship.