Furwa Baig
Program Lead for Monitoring and Evaluation, British Council
Pakistan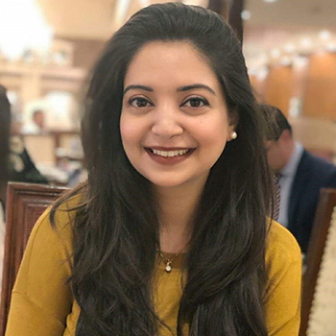 Furwa is a development sector practitioner and education leader with experience in design strategy, research, monitoring and evaluation. She is a Fulbright fellow and holds a Master of Public Administration in Economic and Political Development from Columbia University's School of International and Public Affairs (SIPA). 
Since November 2015, Furwa has been working with British Council (Pakistan) as "Take a Child to School (TACS)" program's Lead for Monitoring & Evaluation and Communications. TACS is a national programme that works to enrol and retain OOSC through an innovative community mobilisation, ownership and advocacy model.
In line with her passion to work for marginalized children and adolescents, Furwa has undertaken projects with the Office of Specialized Instruction- District of Columbia Public Schools (DCPS), a Charter School in NY, a Foundation in Bogota, Colombia and the International Network for Education in Emergencies. These projects involved designing organization strategy, developing impact assessment frameworks and progress monitoring tools, donor reporting and undertaking effective communications.
Prior to SIPA, Furwa has worked in Bank Alfalah Ltd for three years. She also spent a year at a think-tank, working as a Research Assistant on 'Economics of Education' in Pakistan.