Armen Sarkissian
President of the Republic of Armenia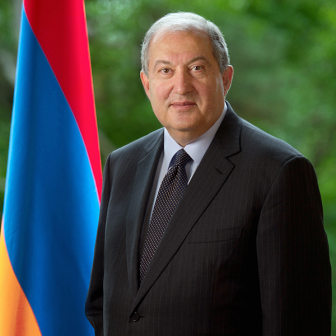 He is elected President of the Republic of Armenia and took the office from April 9, 2018 for seven years.
From 1996 to 1997 he served as Prime Minister of the Republic of Armenia.
In 1992 he was appointed as Ambassador of the Republic of Armenia to the United Kingdom and served simultaneously as Armenia's Senior Ambassador in Europe, Ambassador to the European Union, Belgium, the Netherlands, Luxembourg, Vatican, and the Head of Mission of the Republic of Armenia to the European Union. 
Mr Sarkissian served from 2000 until 2013 in a variety of roles in the European institutions, think tanks, Cambridge University and other universities and foundations, e.g. as Special Advisor of the President of the European Bank for Reconstruction and Development, Chairman of the Global Council on Energy Security and member of the Dean's Advisory Council at the Kennedy School of Government at Harvard University. He also served as a Senior Advisor to British Petroleum, Alcatel, Telefonica, Bank of America Merrill Lynch and other multinational corporations.
Having had careers as a professor of Physics, a senior diplomat and former Prime Minister of Armenia, Dr. Armen Sarkissian is a well known philanthropist and influential leader, with vast business and civic networks in major capitals around the world. He chaired a group of global investment companies, specialising in energy, food & beverages, real estate and high technology industries. While very active in humanitarian and charitable projects, he holds top leadership positions in international organisations, such as the East West Institute, Euro‐ Atlantic Security Initiative, Global Leadership Foundation, the World Economic Forum and others. He is the founder of Eurasia House International and the Founding Director of the Eurasia Centre in Cambridge University's Judge Business School. 
Dr. Sarkissian has over 25 years of experience in science and technology, global diplomacy and international business. With his deep practical and theoretical knowledge of transition economies and state building processes in the Eurasia region, Dr. Sarkissian has helped states, private sector organisations and businesses overcome some of the most difficult internal and external challenges facing policy makers and corporations in a complex globalised world. In recent years he has focused on political economy and investment opportunities and risks in the energy industry, policy development for the nuclear power industry, global business, political and security risks, high technology and cybersecurity.