Dr. Hans Rosling
Edutainer and Co-founder of Gapminder Foundation

Sweden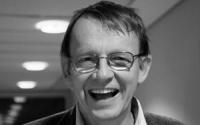 Hans Rosling is a well-known public speaker on global change, listed as one of the 100 most influential people in the world by Time Magazine. He is Professor of International Health at Karolinska Institute, the medical university in Stockholm, Sweden. He is also "Edutainer" at Gapminder Foundation where he produces educational videos and other educational material for the free website www.gapminder.org. The site aims to make the world understandable by converting statistics into enjoyable and animated graphics.
He was trained in statistics and medicine in Sweden and studied public health in India. While working as a medical doctor in Mozambique,  he identified a new paralytic disease in 1981. Following 20 years of health research across Africa he linked the disease to hunger and organic dietary toxins. He also studied other links between poverty and health in Africa, Asia and Latin America. He has been an adviser to WHO and UNICEF, initiated Médecins Sans Frontières in Sweden, started new courses and wrote a textbook on global health.
With his son and daughter-in-law he co-founded Gapminder Foundation and developed the Trendalyzer software that Google acquired. Using its animations of global trends, Hans Rosling makes trend data on economic, social and environmental changes in the world easy to understand. His award-winning lectures and videos have been labeled "humorous, yet deadly serious". His main message is that there are no longer two types of country in the world. The old division between developed and developing countries has been replaced by countries on a continuum of social and economic development levels.