Prof. H.Russel Botman
Rector and Vice-Chancellor of Stellenbosch University

South Africa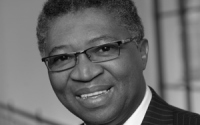 Professor Russel Botman, Vice-Chancellor and Rector of Stellenbosch University, is an esteemed academic and theologian, and reveals a keen awareness of the need for close interaction with the community. These three components, namely academia, theology and the community, are closely interwoven in his professional career.
Prior to becoming Vice-Chancellor, he was responsible as Vice-Rector (Teaching) for the management of a portfolio that is very close to his heart: the development and enrichment of the teaching and learning experience of the student in the classroom. He puts a high premium on the student-centred nature of the university. 
Before joining SU as professor in Missiology, Ecumenism and Public Theology, Prof. Botman was dean of the Faculty of Religion and Theology at the University of the Western Cape, where he was directly involved in the transformation, rightsizing and institutional reorganisation of the faculty.
He is a former president of the South African Council of Churches and has also served in the ministerial task group that advised the Minister of Education on matters regarding religion and education. He is well known for his national and international leadership, as a public theologian and ecumenical role-player.
Outside of the academic world, he serves on the boards of various organisations and companies: chairperson of the Absa Klein Karoo National Arts Festival and non-executive director of Media 24 and Media24 Holding