Mr. Jørn West Larsen
Headmaster of Hellerup School

Denmark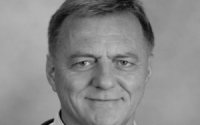 Jørn West Larsen was born in Copenhagen in 1955. He worked as a teacher for 10 years, before he became headmaster of public schools in the Copenhagen area 20 years ago.
As headmaster he has been working on school development, learning strategies and inclusion of children between 5 and 16 years old. He took the chair as Headmaster of Hellerup School two years ago.
Hellerup School is a newly built school in the Gentofte Community, known as the most innovative school in Denmark due to the focus on a diversity of learning strategies, an innovative learning environment, inclusion of all children and learners' autonomy.
Hellerup School has an international profile and takes part in a worldwide school network, being Mentor School for other schools in the "Microsoft Partners in Learning Program".
Jørn West Larsen has a diploma of Advanced School Leadership. He has written articles on school management, the organization of teachers into autonomous teams, inclusion and cooperation between teachers and leisure-time teachers. He is married and has three children.
He was an international football referee and is now working as an international referee observer and instructor for the International Federation of Association Football (FIFA) and the Union of European Football Associations (UEFA). He is a member of the UEFA Panel for Development of Refereeing throughout Europe.